Farmers are short of capital to replant a large area of old coffee fields which have yielded very low productivity in the Central Highlands.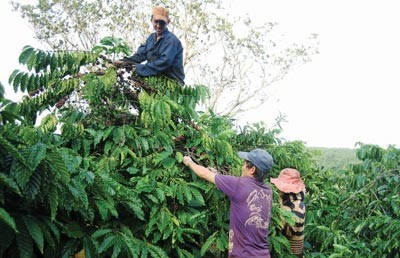 Farmers need financial  assistance to replant their aged coffee fields in the Central Highlands (Photo: SGGP)
Thirty percent of the region's coffee area is 20 year old with productivity as low as 1.5 tons per hectare, according to the Central Highlands Agricultural and Forestry Science Institute.
The Central Highlands has 500,000 of out 62,000 hectares of coffee plants nationwide. Of these 120,000 hectares need to be replanted in the next five to ten years.
The replanted area would be 200,000 hectares by 2020, according to the Vietnam Coffee and Cocoa Association.
Farmers will take at least five years to successfully replant their old coffee fields and suffer a loss of VND150 million (US$7,119) per hectare. Moreover, they will have to pay hundreds of millions of Vietnamese dong to cultivate the new areas in three years, according to scientists.
Ia Grai Coffee Company is also facing with difficulties to replant 300 hectares of aged coffee plants, said the company director Nguyen Dai Ngoc.
Commercial banks pledged to loan VND12 trillion ($570 million) for coffee replanting with the annual interest rate two percent lower than normal at an investment promotion in the Central Highlands last year.
However farmers are uninterested in getting loans because the interest rate is still as high as 10 percent per year.
The Bank or Agriculture and Rural Development has provided a credit package of VND10 trillion ($475 million) for the purpose since June last year. However, the maximum loan is only VND50 million ($2,373) per hectare.