Since the beginning of Lunar New Year, fishermen in the central provinces of Binh Dinh, Phu Yen and Khanh Hoa were continually going out to sea and returning with bumper crops of ocean tuna, selling to traders at very profitable high rates.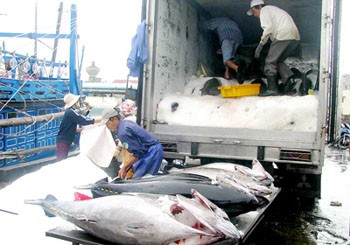 Ocean tuna being sold at Quy Nhon fishing port on January 30 (Photo: SGGP)
Quy Nhon fishing port in Binh Dinh Province was found crowded on Monday. Tens of fishing boats were rushing to fill fuel, stockpile food and ice for a new trip out to sea.
All boats went out on fishing trips even on the main days of Tet, bringing in huge hauls of fish and raking in profits of about VND50-100 million each. Over 5,000 fishermen on board 400 of the 500 tuna fishing boats in Hoai Nhon District welcomed the Tet festival at sea.
Nguyen Van Long, head of the Fisheries Resource Exploitation and Protection Station in Hoai Nhon District said that during the first seven days of Lunar New Year, 45 boats made a huge haul of 70 tons of tuna.
Phan Van Cang, owner of a fishing boat, said that they were so amazed with the bumper tuna crop, and had never seen this big a haul for a long time.
In Phu Yen Province, which has an abundance of ocean tuna, over 400 boats celebrated Tet festival out at sea. 100 boats have already returned from their fishing trips so far.
Bien Minh Tam, director of the Department of Agriculture and Rural Development said that most of these boats reported a haul of about 0.8-1.5 tons of tuna each.
Businesses are paying high, about VND115,000-170,000 a kilogram, which nets each boat a profit of VND80-120 million per fishing trip.
Prospects for ocean tuna
The Ministry of Industry and Trade has listed ocean tuna as one of the three main seafood items for export from Vietnam, besides pangasius and shrimp.
According to the Vietnam Tuna Association, tuna reserves in Vietnam waters are over 50,000 tons. Fishermen in Binh Dinh, Phu Yen and Khanh Hoa Provinces catch about 10,000 tons annually, from which Phu Yen has reported over 5,000 tons.
Vietnamese tuna is being exported to Japan, Taiwan, the US, Australia and EU markets. However, it is labeled under foreign brands as the tuna processing industry has not fully developed in the country.
Vinh Sam Company in Phu Yen Province in mid 2011 coordinated with five Japanese investors to establish a joint venture to process ocean tuna and build a brand name for Phu Yen ocean tuna.
Trinh Thi Ngoc Sam, director of the Vinh Sam Company said that the joint venture will begin operations by March this year, and is expected to export 2,000-3,000 tons of ocean tuna annually.