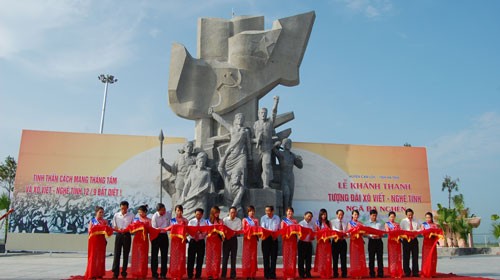 Soviet - Nghe Tinh statue
An inauguration ceremony of Soviet - Nghe Tinh statue was held at Nghen T-junction, Can Loc District, central province of Ha Tinh September 6, marking the 80th anniversary of Soviet - Nghe Tinh farmers' revolutionary movement (September 12).
This is a part of the construction of the Soviet - Nghe Tinh historical relic project with total capital of VND93 billion (US$4.6 million).
Nghen T-junction is the place that the fight between farmers and French colonialists occurred in the peak height of the revolutionary movement.
The Soviet-Nghe Tinh revolutionary movement was a farmers' fight against French colonialists and their lackey feudal mandarins  in 1930-1931. The movement achieved the power from the colonialists and built  people's Soviet governments in two central provinces of Nghe An and Ha Tinh.
Nowadays, Nghen T-junction has been recognized as national historic district of Can Loc.