Currently, the central provinces face to water shortage because of heat waves accompanied with highest temperature during previous days.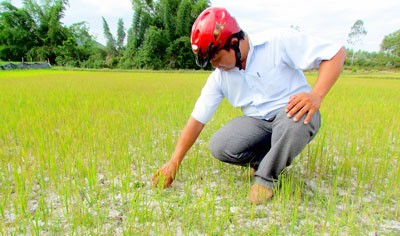 Thousands of hectares of rice fields died or on alert of water shortage. (Photo: SGGP)
Local weather authorities warned that water levels in regional rivers as well as water reservoirshave reduced sharply under minimum water level.
The situation was especially serious in the central provinces like Quang Ngai, Quang Nam, Ha Tinh, where saw no rain during the previous months, causing thousands of hectares of rice fields died or on alert of water shortage.
Local authorities in collaboration with farmers have hold meetings, seminars to find out immediate measures to deal with drought and death over plants, rice fields and animal.
To deal with the water shortage farmers set up makeshift pumping stations to direct water from rivers to rice fields. Some of collective farms had to borrow money from banks for pumping water into rice fields.
 
Deputy Director of Department of Agriculture and Rural Development of Quang Ngai province Dao Minh Huong said that because of drought in current years, the provincial government this year cut down initiatively 3,000 hectares of rice fields to plant some cultivated crops like cassava and maize.
Dien Ngoc Commune in Quang Nam province also was affected heavily by the heat wave. Hence the commune cut down hectares of rice crops to set up livestock and poultry ranches that earn more than  rice fields.
Central city of Da Nang has changed nearly 200 hectares of rice fields into vegetables farms that earn an income about VND 100 million to VND 150 million per hectare each year.
The Ministry of Agriculture and Rural Development has asked affected localities to cope with drought by preserving  water in reservoirs and dredging rivers.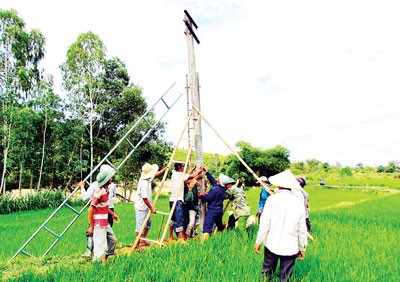 Local authorities and farmers set up makeshift pumping stations to direct water from rivers to rice fields (Photo: SGGP)