The central region has been sizzling in the last few days with temperatures soaring above 40 degrees Celsius in Quang Tri, Quang Binh, and Ha Tinh Provinces, reaching 45-47 degrees in places.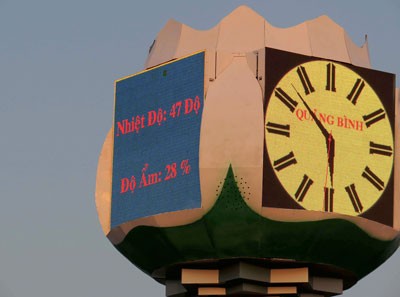 The temperature soars to 47 degrees Celsius on a public clock in a park along the Nhat Le River in Quang Binh Province (Photo: SGGP)
The severe heat wave has upset daily life in many parts of Quang Binh Province.
Tran Van Thanh of Dong Hoi city said hot and dry westerly winds have worsened the heat.
Some 45,000 people face the threat of water shortage as reservoirs are depleting quickly, according to Minh Hoa District authorities.
Residents on 11 islets in the Gianh River are suffering from encroachment by saltwater.
Their fresh water supply has run out, forcing them to buy water at VND100,000 (US$5) per cubic meter.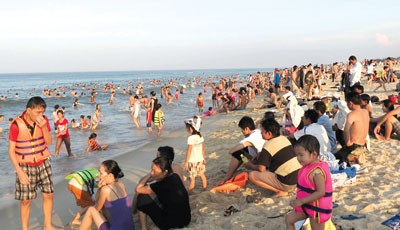 People are hiting the beaches in numbers in Quang Binh, Quang Tri and Ha Tinh Provinces as they seek relief from the scorching weather (Photo: SGGP)
Temperatures have been much higher than forecast in Ky Anh and Huong Khe Districts in Ha Tinh.
Meteorologists forecast a maximum of 39 degrees but the mercury soared to 42 degrees indoors and 47 degrees outdoors in recent days, Nguyen Van Hoa, a local man, said.
Rivers and springs are drying out in Huong Khe.
Several areas in Quang Tri Province face the threat of water shortages if the heat wave persists for a few more days.
Forestry departments in the three provinces are keeping a lookout for forest fires that might be triggered by the heat wave.