Haitang typhoon has practically devastated the ancient village of Thai Duong Ha in the central region, where people are now struggling to rebuild their lives.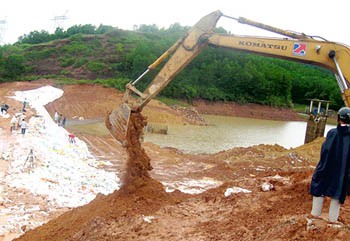 People refortifying the Tho Son irrigation work in Thua Thien-Hue Province (Photo: SGGP)
Over 300 meters of coastline along Thai Duong Ha village has suffered a severe landslide caused by high tide sea waves in Hai Duong Commune of Huong Tra District in Thua Thien-Hue Province.
The ancient village of Thai Duong Ha dates back 400 years, since the time of Lord Nguyen Hoang who tasked Truong Qui Thieu to come down to earth to establish the village.

Today the village lies devastated with a new geographical map as large parts of its land area have been engulfed by high waves from the sea, leaving the village with a new C-shaped topography.
Villager Huynh Ne said that on September 25 and 26, high tide waves and strong winds caused by Haitang typhoon caused a landslide along the length of about 300 meters and 10-20 meters in depth in midst residential areas, threatening lives and properties of thousands of village people. However, all those affected are expected to be resettled soon.
Earlier Thua Thien-Hue Province had built a dyke system costing a hundred billion dong, but it seems the reinforced dyke was not strong enough to withhold the force of nature and prevent the loss of land.
Phan Thanh Hung, head of the Department for Dyke Management and Flood and Storm Control in Thua Thien-Hue Province says they had planned to build better embankments. However, the project met a severe shortage of funds, requiring nearly VND20 billion (US$952,000).
Meanwhile, the Tho Son irrigation work was finally consolidated on September 28 ahead of the oncoming Nesat typhoon. Earlier, leaks were detected in over ten spots of the main reservoir, as a result of torrential and persistent rainfall.
Over 500 people in Tho Son District were called upon to partake in rescue work to protect 1,700 households in Son Giang Commune as well as thousands of hectares of rice and vegetables.
Landslides also occurred along Cua Dai beach in Hoi An town in Quang Nam Province. The sea has swallowed 10 meters of the mainland and is a threat to coastal tourist and urban sites.
Le Van Giang, chairman of the People's Committee in the town said that seawater erosion has destroyed the embankment in the area, causing damage estimated at VND1 billion ($47,000).
Over the last few days, Hoi An authorities have mobilized local residents and students to temporarily dam the embankment with sand bags to hold back the waves in the most vulnerable areas.
Rebuilding the 7 kilometer long embankment along Cua Dai Beach will cost a minimum VND150billion ($7 million), Giang said.