A grand ceremony was held in Hanoi on December 29 to mark the 40th anniversary of the "Hanoi-Dien Bien Phu in the air" victory - an important historic event and symbol of Vietnamese intelligence and revolutionary heroism.

General Secretary of the Communist Party of Vietnam Nguyen Phu Trong, President Truong Tan Sang,Prime Minister Nguyen Tan Dung, Vice Chairwoman of the National Assembly Tong Thi Phong together with Party and State leaders, former leaders, heroic mothers, heroes and war veterans that took part in the 12-day-and-night campaign, attended the event.

Representatives from the Russian and Chinese Defence Ministries and military attachés of Laos, Cambodia, Belarus and the Democratic People's Republic of Korea (DPRK) were also at the ceremony.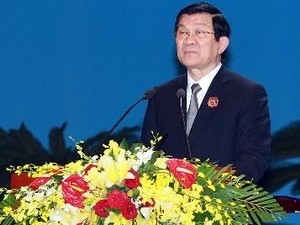 President Truong Tan Sang speaks at the ceremony (Source:VNA)
Delegates at the ceremony said the glorious victory helped the Vietnamese people triumph against the US invasion.

In his opening speech, President Sang stressed that "Hanoi-Dien Bien Phu in the air" was one of the historic victories of the 20 th century, which continues to write golden pages in the history of the nation's struggle against foreign invaders.

"The victory helped the Vietnamese army and people liberate the South and reunify the country in the spring of 1975," he said.

It also intensified the world revolutionary movement and consolidated trust in victory among progressive force struggling for peace, national independence, democracy and social advance, he added.

According to the President, today, as a peaceful and reunified country, Vietnam is implementing its renewal process and accelerating modernisation, industrialisation and international integration to develop a strong and prosperous nation with a democratic and civilised society that is firmly advancing to socialism.

He said that the adoption of the Platform for national construction during the transitional period to socialism (supplemented, developed in 2011) and the 2011-2020 Socio-economic Development Strategy at the 11 th National Party Congress continues to affirm the national construction and defence policy in the new period. It will transform Vietnam into an industrialised country by 2020, maintain independence, sovereignty, territorial unity and integrity, as well as improve the country's position in the international arena to create a firm foundation for higher development in the next stage.

To successfully fulfill these targets and tasks, it requires the Party, army and people's determination, he noted.

Sang stressed that the Vietnamese Party, State and people will always be grateful to fraternal socialist countries, international friends, and peace and justice lovers across the world - including the US people - that supported and assisted Vietnam during the war.

Upholding the nation's tradition of friendship, Vietnam, a reliable partner and responsible member of the international community, wants to strengthen friendship and cooperation with all countries, including the US, for mutual development.

He added that Vietnam wishes to maintain a peaceful and stable environment for industrialisation and modernisation, and firmly defend independence, sovereignty, territorial unity and integrity, and national interests. Vietnam also wishes to build a strong and wealthy nation that contributes to world peace, national independence and democracy.

The President affirmed that with the pride of glorious victories and the tradition of patriotism, the Party, army and people are determined to continue and develop the honourable tradition during the current national construction and defence.

"We will seize all opportunities and overcome all challenges to construct and defend Vietnam, while successfully building a strong nation with prosperous people and a democratic and civilised society deserving to the sacrifice of our elders, adding to the glorious national history," he concluded.

Earlier, a delegation of Party, State, National Assembly, Government, and Vietnam Fatherland Front leaders paid a floral tribute to President Ho Chi Minh at his mausoleum on the 40th anniversary of the "Hanoi-Dien Bien Phu in the air" victory.

Party General Secretary Nguyen Phu Trong, President Truong Tan Sang, Prime Minister Nguyen Tan Dung, National Assembly Chairman Nguyen Sinh Hung, and President of the Vietnam Fatherland Front Central Committee, Huynh Dam, joined the delegation.

The delegation laid a wreath at Martyrs' Monument in Hanoi