A circular establishing new area codes as well as mobile phone prefixes will take effect in March, but it will be carried out in phases, Deputy Minister of Information and Communication Le Nam Thang said on January 10.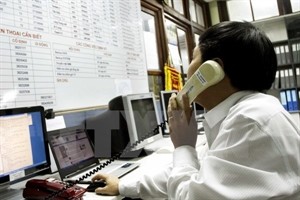 (Photo: Vietnamplus)
Thang was responding to concerns that the new area codes and mobile phone prefixes would cause considerable difficulties for businesses, especially since they are in the thick of preparations for the Tet (Lunar New Year) holiday, the biggest in the country.
Thang stressed the importance of establishing the new area codes as well as mobile phone prefixes saying the old system, which was designed more than 50 years ago, can no longer accommodate the country's fast developing telecommunication networks.
"Fifteen years ago, the number of landline users was many times that of mobile phone users. Now, out of a total of 140 million phone numbers, 133 million are mobile phone users, but seven of nine digital prefixes have been assigned to landline users," he said.
"Long-distance calls, which require an area code, amounted to just 1.6 percent of the total number of calls made in Vietnam. The impact, therefore, would be minimal," he added.
Thang also clarified that not all mobile phone users will be affected by the circular. Only those having 11-digit mobile phone numbers will experience the change, he said.
Even then, the numbers won't be changed completely, just the first four digits, he added.
News of the circular had sparked concern among businesses over costs that would be incurred in changing their contact information on labels and packages.
"The circular will re-organise the area codes. It will take effect officially on March 1, but this does not mean every change will take place on that day. It is a long-term plan and will be carried out in many phases," said Thang.
The implementation process will be carefully studied to minimise any adverse affect it may have on businesses, organisations and individuals, he said.
Affected user groups will be notified 60 days ahead of time on media and by other means of communication. The ministry will co-operate with telecommunications companies to provide technical support during and after the transitional period.
The deputy minister also said changes that do not affect large numbers of users will be prioritised.
The system will handle both old and the new numbers for a while before the changes become permanent, he added.