Fishermen in northern Vietnam have returned to the sea after the recent decreases in petrol prices, the Ministry of Agriculture and Rural Development said yesterday.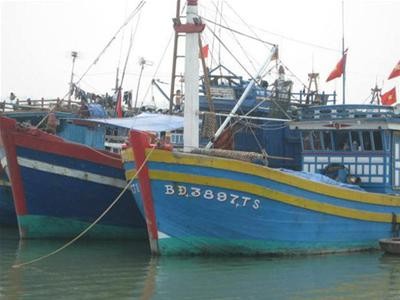 Offshore fishing boats in Thanh Hoa coat.
Favorable weather helped fishermen in Hai Phong, Quang Ninh, Thanh Hoa provinces bring in good catches. The ministry said fishermen were catching many yellow-striped trevally, blood snappers, edgeblack groupers and largehead hairtail, also known as beltfish.
These fish fetch prices of between VND35,000 and VND40,000 per kilogram and are popular in China, the ministry said.
However, in Vietnam's south, the fishing industry had not yet recovered, with only about 55 percent of fishing boats going to sea.
The ministry said falling seafood prices were deterring fishermen, with the price of some types of seafood down by 60 percent.
Earlier this year, most of Vietnam's fishing fleet was idle because high fuel prices made fishing unprofitable.