China's oil rig Haiyang Shiyou-981, illegally stationed in Vietnamese waters, was probably preparing to move to a new position on June 17 as it lowered its two cranes, according to Vietnam News Agency reporters at the site.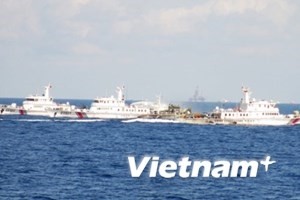 Chinese ships defend the rig (Source: VNA)
The Vietnam Fisheries Surveillance fleet has intensified its monitoring of the area where the rig is illegally standing.
Unusually, Chinese ships approached Vietnamese vessels from directions different from those during previous days, while continuing to deliberately disrupt them from approaching close to the rig.
According to the Vietnam Fisheries Surveillance force, China on June 17 maintained 136 ships, including five battleships, to surround the rig. They kept on circling and standing ready to ram Vietnamese vessels, while approaching them to a distance of 30-50m.
In addition, Chinese fishing ships escorted by a coast guard ship formed a line to block and disturb Vietnamese fishing boats undertaking their normal catching activities at about 30 nautical miles from the rig.
At the beginning of May, China illegally dispatched the rig as well as a large fleet of armed vessels, military ships and aircraft to Vietnam's waters and positioned the rig at 15 degrees 29 minutes 58 seconds north latitude and 111 degrees 12 minutes 06 seconds east longitude, 80 miles deep inside Vietnam's continental shelf and exclusive economic zone.
Despite Vietnam's protest, China has expanded its scale of operation and moved the rig to 15 degrees 33 minutes 36 seconds north latitude and 111 degrees 34 minutes 11 seconds east longitude, 60 nautical miles deep inside Vietnam's continental shelf and exclusive economic zone.