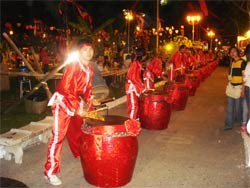 One of the cultural activities of Chinese Community (Photo: VH)
Representatives of Shang Hai National Institute of Administration, China, met with leaders of District 5 on March 21, 2006.
The district leaders provided information on typical features of Chinese community in the locality, mentioning daily life of the Chinese residents there.
Reportedly, the Chinese people account for 60% of the production activity with many traditional crafts..
There are over 400 newly established Chinese enterprises, making up 20% of those in the locality.
The Chinese companies annually spend more than US$4.2 million on new machines and equipment.
Even more, the Chinese community contributes nearly VND4 billion for charitable and social activities in the area every year.