Chinese ship coded 11209 sank a Vietnamese fishing boat with 10 members on board in Vietnamese waters on May 26.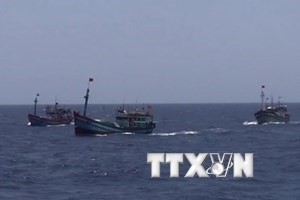 Vietnamese fishing boats (Illustrative image: VNA)
Boat DNa 90152 from the central city of Da Nang during its regular operation in its traditional fishing ground was deliberately encircled by 40 fishing vessels of China before it was attacked by the Chinese ship 11209.
The incident occurred at 4 pm at a site 17 nautical miles from where China 's Haiyang Shiyou-981 oil rig is illegally standing.
The location is the traditional fishing ground of Vietnamese fishermen in Vietnam 's exclusive economic zone and continental shelf.
All 10 fishermen were then rescued by other ships of Vietnam .
This is not the first time Vietnamese fishing boats have been attacked by Chinese ships.
On May 16, boat QNg 90205-TS's regular operation in the traditional fishing ground in Hoang Sa (Paracel) archipelago was disrupted by Chinese ship coded 306. Vietnamese fishermen were then beaten by crew members of the Chinese ship while their properties including satellite positioning and communications equipment were taken away.
After being assailed, the boat, captained by Nguyen Van Quang from Binh Son district, central Quang Ngai province, managed to escape and then get medical assistance from Vietnam 's coast guard vessels.
Quang said the attack cost him about 500 million VND (23,500 USD).
On May 7, fishing boat QNg 96416-TS, captained and owned by Nguyen Van Loc from An Vinh commune, Ly Son district, Quang Ngai province, was chased and rammed by a Chinese ship in the Hoang Sa area, suffering from damage to its sides and cabin.
Since the beginning of May, China illegally dispatched the rig, as well as a large fleet of armed vessels, military ships and aircraft, to Vietnamese waters and positioned the rig at a location 80 miles deep inside Vietnam 's continental shelf and exclusive economic zone prescribed by the 1982 United Nations Convention on the Law of the Sea (UNCLOS 1982).
Chinese ships have repeatedly rammed and fired water cannons into Vietnamese coast guard and fisheries surveillance ships which are carrying out their law enforcement missions in the country's waters, leaving many Vietnamese ships damaged and officers injured.-VNA