Vietnamese leaders this week paid Christmas visits to Catholics, while Christians across Vietnam celebrated the birth of Christ.
People gather for Christmas Eve in a central area in Ho Chi Minh City's District 1 on Dec. 24 (Photo: SGGP)
On December 23, Vietnam Communist Party Central Committee member Ha Thi Khiet, who is also the section head of Central Commission for Mass Mobilization, visited Catholic families in the northern Province of Ha Nam. She distributed presents and wished them a healthy and happy Christmas.
On the afternoon of the same day, Pham Quang Nghi, a member of the Politburo and Ha Noi Party Committee Secretary, visited and gave gifts to 80-year-old Vietnamese heroic mother and Catholic Dang Thi Nhung, who lives in a "house of gratitude" in Dong Da District. Nhung's only son passed away in the war against the US.
Nhung shares her house with 90-year-old Dao Thi Hoi, the widow of a revolutionary martyr.
The same day, Ha Noi People's Committee Chairman Nguyen The Thao visited and gave gifts to two typical Catholic families in Quang Trung Ward of Ha Dong District.
Ha Noi People's Council Chairman Ngo Thi Doan also visited and gave presents to Catholic organizations in Ha Noi.
In Can Tho City, a delegation from the Ministry of Public Security, including Can Tho police force representative Colonel Huynh Ngoc Phuong, visited and presented flowers and a letter of congratulations from the Minister of Public Security Le Hong Anh to people in Vinh Thanh District.
The Colonel also visited six families in Thanh Tien Commune in the same district affected by a fire on December 21. Colonel Phuong offered each family VND2 million ($118). The money was donated by SGGP, Cong An (Police) newspaper and Tay Do Garment company in Can Tho City.
Authorities of Thua Thien-Hue province visited Catholic dignitaries at the Archbishop's Palace of Hue Diocese.
Eventful Christmas in Ho Chi Minh City
Meanwhile, in Ho Chi Minh City, shops reported mixed sales.
Bakeries such as Hy Lam Mon, Kinh Do, ACB, Pham Nguyen were crowded. Kinh Do Bakery reported its outlets served three or four times the usual number of customers.
However, Christmas shops did not do so well. Outlets selling Noel clothes, such as Santa suits, in Hai Ba Trung Street in District 1, Le Van Sy Street in District 3 and Hai Thuong Lan Ong in District 5, were left with a lot of unsold items, in spite of discounts of 20 to 30 percent on some items, including Christmas decorations.
Gift shops also noticed a downturn this Christmas season. Le Quoc Bao, 74, from Tan Binh District said he has offered a Santa Claus service for the past five years and this year was the slowest ever, even though he dropped his prices by 20 to 30 percent from last year.
In spite of the subdued Christmas spending, people took to the streets in HCMC to enjoy the festive spirit and the Christmas decorations. In main streets, such as Le Lai and Le Loi, in District 1, streams of people filled the street from the New World Hotel to the city's theatre.
Diamond Plaza trade center was one of busiest places, with thousands of people gathering to be merry and take photographs.
At Duc Ba Cathedral, a Santa Claus with a heavy bag of gifts gave any child he met a present. Underneath the suit was Binh, from the management board of the southern electricity project. He has dressed as Santa and delivered presents to children for the past three Christmases.
Christmas atmosphere spreads to the Central Highlands
In Kon Tum Province, authorities created advantageous conditions for Catholic and Protestant followers to celebrate Christmas.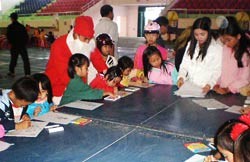 Children in the Central Highlands province of Kon Tum draw pictures to welcome Christmas (Photo: SGGP)
Local officials went to churches to give gifts and wish Christians a happy Christmas.
Santa Clauses at Kon Tum Province's house of culture for children helped children draw pictures and prepare for Christmas night. 
A Ben, a 48 year-old Catholic parishioner in Kon Ktu village in Dak Ro Wa Commune, said that his villages had decorated two 20 meter Christmas trees in front of their church.
"This Noel, our village had a good cassava crop, so we are very excited to prepare for Christmas," the village patriarch of A Ve village in Vinh Quang Commune said.
In Kon Tum, there are about 127,000 Catholics and over 14,000 Protestants.