Authorized agencies should penalize those fishing on Nhieu Loc-Thi Nghe Canal which is recovering from heavy pollution in Ho Chi Minh City, said a citizen.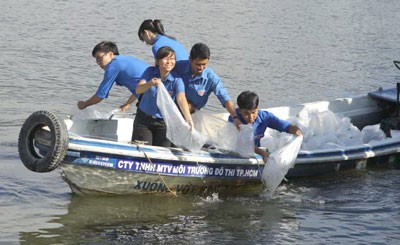 Activists release fish into Nhieu Loc-Thi Nghe Canal (Photo: SGGP)
HCMC has recently released 450,000 fish into the canal aimed to improve the canal's environment. However, the fish volume has drastically fallen because of indiscriminate fishing.
 
Hundreds of fishing rods were found drop into the canal on April 9. Nearby is a fishing ban board.
It was easier to catch fish at night when they moved to the water surface, Hung said. He was willing to catch any fish that buyers want.
Lots of fishers have streamed to the canal but local authorities have done nothing to tackle the issue, said a 40 year old man. The man bought a yellow carp from Hung and released it into the canal again.
Local authorities should issue fines to stop fishing along Nhieu Loc Thi Nghe Canal, he added.