HCM CITY  (VNS) — People's Committees of District 5, District 12 and Tan Phu in HCM City yesterday signed support agreements with the Hoc Mon District People's Committee to help the later's communes implement new rural area programme in 2014-15.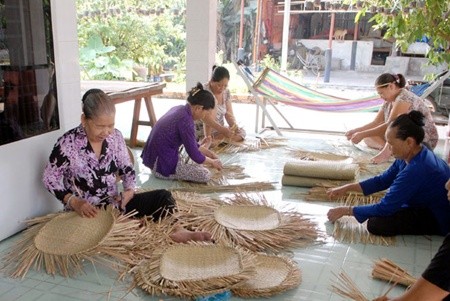 Women weave bamboo and rattan strips to make handicraft items under a pilot model for building new rural areas in HCM City's Xuan Thoi Thuong Commune. Creating employment opportunities is a main function of new rural areas. — VNA/VNS Photo
Under the support agreement between District 5 and Hoc Mon, District 5 supports Xuan Thoi Dong, Ba Diem and Thoi Tam Thon communes.
Meanwhile District 12 helps Dong Thanh and Xuan Thoi Thuong communes. Tan Phu helps Nhi Binh, Tan Xuan and Xuan Thoi Son communes.
The three districts will spend a total of VND2.1 billion (US$100,000) to support the eight communes building new houses and repairing dilapidated houses for the poor, providing scholarships for poor students, health insurance cards for the poor and monthly allowance for the poor.
Tan Phu, for example, will help build four new houses worth a total of VND160 million, repair eight dilapidated houses at a cost of VND160 million, provide monthly allowances for eight poor households worth a total of VND24 million, provide 21 scholarships worth a total of VND24.8 million and 29 health insurance cards. On May 19, District 6 signed a support agreement with Hoc Mon to support Tan Thoi Nhi and Tan Hiep communes in building new rural programme. District 6 will spend about VND680 million to support Tan Thoi Nhi and Tan Hiep communes.
The support agreements are under the City Party Committee's policy of supporting communes that participate in new rural area programmes.
In 2010-13, Hoc Mon's first commune - Xuan Thoi Thuong - was selected to implement in the national new rural programme. The commune has fulfilled all 19 criteria set under the programme, which include proper transportation and irrigation facilities, housing development, poverty alleviation, environmental protection and social and political stability.
In 2013-15, Hoc Mon has implemented the new rural area programme in other nine communes which now achieve from 10 to 15 of the 19 criteria.
Hoc Mon has 11 communes and Hoc Mon Town. Trung Chanh Commune and Hoc Mon Town do not implement the new rural area programme and are developed into civilised urban areas.