Thousands of successful farmers in suburban districts have helped 26,000 poor farmers in the city escape poverty over the past 16 years. Through the Hunger Eradication and Poverty Alleviation Program launched by city authorities, successful farmers not only lent money, breeding animals, plant varieties and seeds as starting funds, they also shared knowledge in husbandry and farming techniques.
 
Helping each other strive for a better life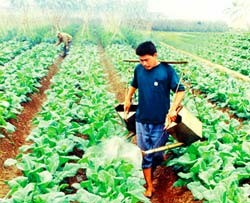 Many farmers help others grow organic vegetables to escape poverty
Ms. Nguyen Thi Mao lives in Pham Van Hai Commune of Binh Chanh, a low lying area with alkaline soil. Since few profitable plants can grow on the land, Mao decided four years ago to breed pigs to earn a living. 
 
After her family become better off thanks to the successful breeding, Mao decided to help poor locals to breed pigs. She lends them breeding pigs and feed and teaches them farming techniques. By doing so, Mao has helped out thousands of poor farmers' families in the region. 
 
Mr. Pham Van Vu, a very experienced farmer in An Nhon Tay Commune, Cu Chi District, who has successfully helped the locals strive for a better life by breeding cows, is another example. 
 
Vu used to be a poor farmer in the commune. He managed to climb out of poverty thanks to the assistance of other farmers who lent some money as a starting fund for his cow-breeding business.

In 2006, after becoming an affluent breeder, Vu decided to help others in the commune to escape poverty. 
 
Vu lent Kim Hoa, a poor local woman, money to breed three cows. He also taught Hoa husbandry, how to cure ill cows and how to milk them. Thanks to Vu's assistance, Hoa has now raised her herd of cows to seven and earns around VND120,000 ($10) a day from the sale of milk. Her family has an annual average income between VND80 -100 million ($4570 - 5715). 
 
Nguyen The Nghiep is a successful producer of yellow apricot flowers in Tang Nhon Phu Ward, District 9. For many years now, Nghiep has not only lent funds to poor local farmers who wish to grow this kind of flower, he also gives them varieties and shares knowledge in growing and marketing the flowers.
 
Nghiep has helped many poor farmers in the region escape poverty as they now own orchards growing over 100 trees of yellow apricot flowers. Each of them can earn a stable yearly income from VND35 - 50 million.
 
Pilot program to be extended
 
The HCMC Farmers' Association has recently conferred the title 'Very experienced and successful farmers' to over 11,000 farmers throughout the city under the campaign 'Farmers helping each other to eradicate hunger and alleviate poverty and honestly make fortune'. Among them, ten also received certificates of merit for devoting their time, effort and money to help others.
 
The deputy Chairman of HCMC People's Council, Nguyen Van Phung, said that the campaign was launched at the same time as the Hunger Eradication and Poverty Alleviation Program and has helped out 26,000 farmers and their families over the past 16 years. Fifty percent of farmers in the city have also achieved the title 'Very experienced and successful farmers,' thanks to the campaign.
 
In early 2009, a pilot program, 'Each successful farmer helps a poor farmer's family to climb out of poverty,' has been launched, added Phung. Every awarded farmer, in districts throughout the city, would sign a commitment to give assistance to at least one poor farmer to help him and his family escape poverty and then make fortune in a honest way.
 
If the pilot program works, said Phung, it will be extended to help a further 5,000 farmers and their families by 2013.