Ho Chi Minh City's delegation visited and handed over VND one billion to the Quang Ngai Fishermen Support Fund on June 6.
Head of the Department of Propaganda and Training of the HCMC Party Committee Than Thi Thu led the city delegation visited fishermen, fisheries associations.
The delegation supported VND 200 million to fisheries associations in Pho Quang, Pho Thanh Communes in Duc Pho district;Tinh Ky, Nghia An communes in Quang Ngai city and Binh Chau communes in Binh Son district.
City leaders offered gifts to 25 poor fishermen in Ly Son district worth VND 2 million each.
In recent time, the fisheries associations in Quang Ngai strongly protested China's illegal position of the oil rig in Vietnam's exclusive economic zone and continental shelf of Vietnam's East Sea.
The associations collaborated with local authority encouraged injured-fishermen, who were attacked by China's ship in Paracel Island.
President of fisheries association of Pho Thanh commune said that we have often monitored what are happening in offshore in order to make a guidline for Vietnamese fishing ships.
On behalf of the city delegation, Than Thi Thu shared the difficulties to associations.
Vietnamese people across the country in general and citizen, city leaders in particular always are willing to support, create best favorable conditions for vietnamese fishermen, as they can continue to go out to sea to keep Vietnam's fishing ground as well as safeguard national sovereignty over the country's seas and islands, stated Thu.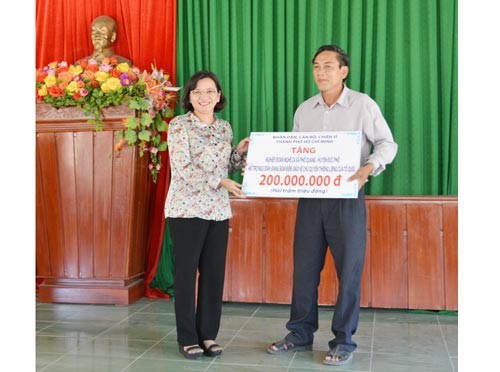 Head of the Department of Propaganda and Training of the HCMC Party Committee Than Thi Thu offered VND 200 million for representative of fisheries association of Pho Quang Commune.(Photo:SGGP)