Nguyen Van Dua, the Permanent Deputy Secretary of Party Committee in Ho Chi Minh City, led a delegation to visit residents and victims of the recent Storm 'Nari' in Quang Binh Province on October 21.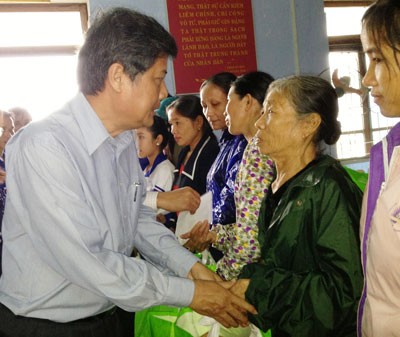 Mr. Nguyen Van Dua (L) offers gifts to poor families in Quang Son Commune (Photo:SGGP)
Luong Ngoc Binh, Secretary of the Party Committee of Quang Binh Province, Chairman of the Quang Binh provincial People's Council said that the province had incurred heavy losses after the storm made landfall in the region, killing eight people, injuring 32 and destroying 208 houses completely and blowing off roofs of 418 more. Total damage is estimated at VND117,41 billion.
Nguyen Van Dua expressed his deepest sympathy for the loss suffered by the people of Quang Binh. He hoped that they would soon stabilize their lives and return to normalcy as soon as possible.
The delegation donated VND1 billion to Quang Binh. Moreover, Quang Binh Province also received VND32 billion from 112 agencies, units, local benefactors and foreign donors.
On this occasion, Nguyen Van Dua visited and encouraged three families in Quang Son and Quang Minh Communes whose relatives were killed or injured in the storm. The delegation also presented gifts to 200 poor families.
Earlier on the evening of October 20, the City delegation offered incense to commemorate heroes at Nga Ba Dong Loc History Relic Site in Ha Tinh Province.