Marking the 89th anniversary of Vietnam Revolutionary Press Day (June 21), Secretary of Party Committee in Ho Chi Minh City Le Thanh Hai and city delegations visited, congratulated the representative office of Sai Gon Giai Phong Newspaper in Hanoi Capital on June 19.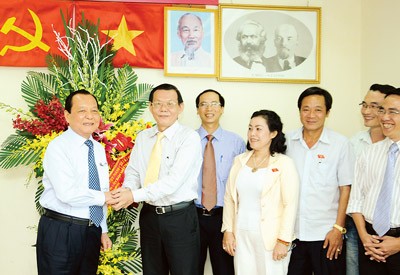 Party Secretary of Ho Chi Minh City Le Thanh Hai (L) visits reportes, staffs of Saigon Giai Phong Newspaper offfice in Hanoi (Photo:SGGP)
On behalf of staffs, officers, Editor-in-Chief of Sai Gon Giai Phong Newspaper Nguyen Tan Phong reported the current operation of the newspaper.
He thanked the Secretary and the City Party Committee for paying the attention to SGGP newspaper and directions for the development.
Mr. Phong stated that Sai Gon Giai Phong Newspaper will continue to provide hot news and true information to readers.
At the meeting, Secretary Hai praised the achievements, efforts of SGGP newspaper as well as the representative office of the newspaper in Hanoi for completing its propaganda mission in the previous years, including the meaningful program " sentimental attachment to Truong Son Road".
He hoped that in the future the newspaper continue to launch similar program towards Sea Islands, such as Paracel and Spratly archipelagoes.
Mr. Le Thanh Hai also affirmed that city Party Committee and leaders pay much attention to the SGGP newspaper's development, and would create all favorable conditions for the newspaper's development in the next years.
He expressed the hope that the editorial board would try to innovate and improve the quality of the newspaper to attract more readers.
On the occasion of Vietnam Revolutionary Press Day, Mr. Le Thanh Hai sent greeting to the whole of editorial boards members, reporters, staffs of SGGP newspaper.
On the same day, City's Party Secretary Le Thanh Hai and the city delegation also visited and congratulated other press agencies in Hanoi.