A solemn meeting was hold today by the city authority and people to mark the 37th anniversary of Reunification Day of the nation and May Day.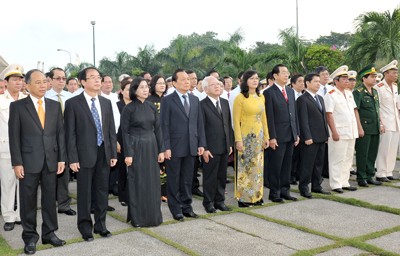 City leaders pay vist and lay wreaths of flowers to martyrs at the City Martyr Cemetery on Sunday, April 29, 2012.
Speaking at the meeting, city's Chairman Le Hoang Quan said that the victory of the Vietnamese people in the resistance war against the US imperialists is always recorded in the national history as the most brilliant pages, a delight victorious symbol of revolutionary heroism and human mind.
The victory entered the world history as the great victory in the XX century, an important international and time-depth event, he said.
The country has entered the new era, however, the valuation of the great resistance war for national salvation of the Vietnamese people together with Spring Great Victory is lasting forever, he added.
At the meeting, Prime Minister Nguyen Tan Dung rewarded Ho Chi Minh City the leading flag award among the biggest cities in the country for it's economic- social and cultural achievement in 2011.
On this occasion, President Truong Tan Sang honored 3 organizations and 6 individuals with the title of "Hero of the People's Army Forces".
On the same day, city's leaders also paid visit and laid wreaths of flowers in tribute to martyrs at the City Martyr Cemetery.