The Ho Chi Minh City Department of Natural Resources and Environment on Monday announced the criteria to choose investors for solid waste treatment, collecting and transport over the city's areas.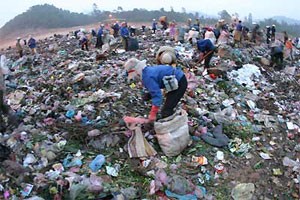 Solid waste is very harmful to humans, especially those who live near the dumps (Photo: VietnamNet)

An obligatory criterion is that the investor of a foreign-funded project must possess 20 percent of the total capital or 30 percent if it is a local-invested project.

Besides, the minimum capacity of urban solid waste treatment must be 500 tons per day, and that of industrial solid waste treatment must be 200 tons per day.

The city will give priority to technologically advanced projects with high capacity that would create high-valued and environment-friendly recycled side-products.

After approving a project, the city will provide lease-free land to the investors.