At a meeting to review the progress of cleanup operations along the Nhieu Loc-Thi Nghe Canal area, Nguyen Huu Tin, Deputy Chairman of the Ho Chi Minh City People's Committee, on Monday instructed districts and relevant departments to maintain and preserve the environment along the canal area.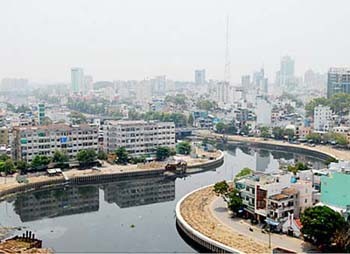 A view of the Nhieu Loc-Thi Nghe Canal in HCMC, which is in its final phase of cleanup (Photo: VOH)
Mr.Tin instructed related departments to ensure the project is complete as per schedule on September 2, even as final jobs are still undergoing completion like lighting and tree planting, which should be over by June 30.
At the meeting, Mr.Tin proposed that districts install cameras at various locations on both sides of the canal to keep a check and penalise people indiscriminately dumping garbage.
Districts should coordinate with investors to keep the environment clean and crack down on people throwing litter and using streets for business or parking space, he said.
They should work with local people and give them a deadline of April 30 to rearrange their business and parking areas. Failing that, they will be penalised. Those fined three times for offences, will lose their business licences.
Contractors will also be held accountable if their works deteriorate and are of inferior quality.