Climate change has severely affected the Mekong delta region where residents are in despair as crops have been devastated and livelihoods continue to suffer.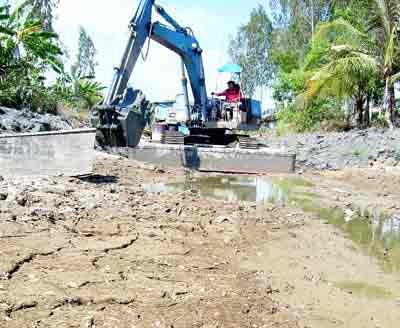 Bac Lieu province drains canals for fresh water stock for summer use (Photo: SGGP)
Ut Het, an elderly farmer in Tam Binh district of Vinh Long province in the Mekong delta is in despair and can neither eat nor sleep with worry, having lost his entire rice crop due to the severe cold before Tet.
Now he is faced again with the problem of rats devastating his second rice crop which is already in ear and almost ready to harvest.
Statistics from the Department of Agriculture and Rural Development reveal that the Mekong delta province of Dong Thap has lost 16,000 hectares of the winter-spring rice crop due to unpredictable weather.
Not only bad weather but also the salinity penetration has destroyed many hectares of paddy fields and vegetable farms. According to the Department of Agriculture and Rural Development in Tra Vinh province, more than 12,000 hectares of rice fields in  Tra Cu and Cau Ngang districts were choked with salinity penetration while people were busy preparing for the Tet season.
Farmers had no time to cope with the problem during that period and consequently lost their crop. The situation is the same in Ben Tre province where the salinity has reached high levels this year and earlier than expected.
Ben Tre province is presently implementing a project to construct fresh water pipes for irrigation and for daily activities of residents in the coastal districts of Ba Tri and Binh Dai. In addition, Ben Tre is also introducing plant seeds which are more suitable for growing using either fresh, salt or brackish water.