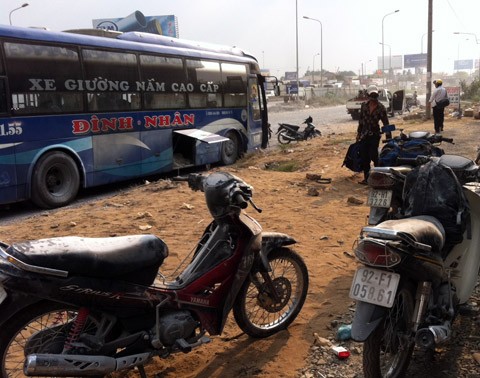 The burnt bus and motorcycles
A 35 seater bus travelling from the central city of Da Nang to Ho Chi Minh City with 30 people on board suddenly caught fire at a crossroad in Bien Hoa City in the southern province of Dong Nai.
30-year-old driver Nguyen Van Nhut and his assistant noticed smoke erupting from the side of the bus and immediately pulled over on the side of the road. All the passengers panicked and rushed to get out of the bus.
The bus was carrying five motorcycles in its baggage compartment, which also went up in flames.
Residents rushed from nearby areas to help put out the fire, which took more than 30 minutes to quell. Police later verified that the five motorcycles were of Honda and Yamaha make, and had also burnt along with the bus.