Japanese Emperor Akihito yesterday received Prime Minister Nguyen Tan Dung and leaders of the Greater Mekong Sub-region countries in Tokyo to attend the 4th Mekong-Japan Summit.
At the reception, PM Dung expressed his belief that the Japanese people will overcome their recent difficulties to build a more prosperous nation.
He said that the Vietnamese State, Government and people are looking toward to welcoming the Japanese Emperor and Empress to Viet Nam when the two countries mark the 40th anniversary of their diplomatic ties in 2013.
On the same day, Prime Minister Dung met Japanese Deputy Prime Minister Okada Katsuya in Tokyo.
Dung expressed his pleasure at the fine development of the Viet Nam-Japan strategic partnership and said the two countries need to boost co-operation in many fields to match their great potentials.
He asked the two sides to accelerate visits and meetings at all levels, to expand human resource exchange programmes and to simplify entry procedures for Vietnamese to study, work and travel in Japan.
In addition, PM Dung said Viet Nam wishes to expand co-operation and learn from Japan's experience in vocational training and social insurance, as well as continue increasing official development assistance from the country.
Japanese Deputy PM Okada Katsuya gave his impressions of Viet Nam's recent development and shared Japan's experience with the implementation of policies on social insurance.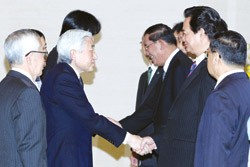 Japanese Emperor Akihito shakes hands with Prime Minister Nguyen Tan Dung (second, right) at a reception of Greater Mekong sub-region country leaders.
Dung also met yesterday with former Japanese Prime Minister Yukio Hatoyama who is now President of the Japan-Viet Nam Friendship Parliamentary Alliance (JVFPA) of the Democratic Party of Japan.
At the meeting, Dung spoke highly of the valuable contributions of the former Japanese Prime Minister and the JVFPA to developing co-operation and friendship between Viet Nam and Japan.
Dung and leaders from the Greater Mekong Sub-region coutries also attended a reception held by the Japanese Chamber of Commerce and Industry and the Japan Business Federation Keidanren.
Dung said the Vietnamese government continually worked to improve the business environment and to welcome Japanese enterprises to invest in Viet Nam's market.
As of now, Japan is Viet Nam's biggest foreign investor and most of the big economic groups in Japan have already opened shops in Viet Nam providing high-quality products.
The Vietnamese Prime Minister spoke highly of Keidanren's co-operation with Vietnamese partners to implement the Viet Nam-Japan joint initiative on improving the business environment to boost commerce and trade between the two countries