With steely determination, fortitude and effort, the army engineers of Army engineer regiment 83 constructed many impressive buildings on the sinking islands in mid East Sea aimed at consolidating Vietnam's sovereignty.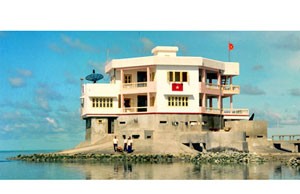 A building on a sinking island built and used by army engineers
23 years ago, a 22-year-old soldier named Nguyen Tho Tran along with his comrades of Army engineer regiment 83 were assigned to build a standard sustainable house on the West London Reef, a sinking island of Spratly Islands.
When approaching the island for the very first time, Tran was surprised to see the construction site surrounded with water.
At 6.30 pm that day, soon after dinner, Tran and his comrades put on life-jackets, fastened each with a rope and swam to the island one after another. All the building material had been sent ashore in a small canoe.
When they reached the island, it was so dark that they had to light oil lamps. Using the flickering flame the soldiers started their work.
According to Tran, working in sinking islands meant the soldiers remained soaked in water for hours. That was the reason why their clothes were always wet and their bodies were constantly cut by corals. When the tide sometimes rose or the rain suddenly came down, the troops somehow managed to move the materials ashore.
After three months of strenuous work, the first standard sustainable house was ready on the West London Reef.
Tran's comrades also created many other remarkably solid buildings on the Reef. Although many times their skin would peel off or swell due to cement and sea water or their construction was damaged, they maintained a steely determination encouraging each other to fulfill their mission.
Two years later, in 1990, the Army engineer regiment 83 was given another important assignment from Navy High Command, that is, to broaden the entrance of the Great Discovery Reef for naval ships and fishing boats to shelter from the storm. Hoang Kieng, former leader of the Army engineer regiment 83, was asked to direct the project.
On March 25th, 1990, ship HQ617 brought 200 tons of dynamite and workers to the Great Discovery Reef. At that time, the weather was a serious drawback. A cold Northeasterly monsoon, a 4000-meter-distance from the anchor base to the work place, a fierce thunderstorm and a high billow threatened the soldiers. However, with precise management, cooperation and determination, they were able to protect their equipment and most importantly, their lives.
Despite difficulties confronting them in Spratly Islands, soldiers of the Army engineer regiment 83 still put in a great deal of effort to set up more and more standard buildings with their bare hands. Thanks to their sincere efforts and courage, many sinking islands now stand firm at sea.
As Senior Lieutenant Colonel Bui Quang Hai said with pride, many buildings in Spratly Islands are even better than those on the mainland.