HA NOI(VNS)— Honeycomb coal has been processed in homes along the banks of the Red River since the 1990s.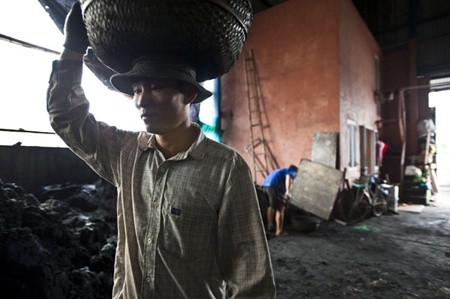 Phung Van Thai, a worker from Ha Nam Province, at work in the plant. He dreams of opening a food stall with his wife once he can save enough money. — VNS Photo Nguyen Anhby Nguyen Anh
About seven kilometers from the capital on Bach Dang Street at the port of Ha Noi, this area used to be called Pha Den, which means "the black ferry".
Honeycomb coal was popular back then when cooking was done in a honeycomb coal stove.
Honeycomb coal was cheap and it is still cheap now.
As the economy and household incomes grew, more made the switch to gas-powered or electric cookers as residents became more aware of the pollution.
There are now only about four or five honeycomb processing households left.
The bumpy road leading to this area gets even muddier during Ha Noi's wet weather. The smell of carbon and sulphur hangs in the air.
Around 50 migrant workers who call this area home inhale the dark-coloured pollution on a daily basis.
Hoang Van Thuong, in his 40s, is the owner of the biggest honeycomb processing plant on Bach Dang Street. In the old days, Thuong said his factory used to sell between 30,000-40,000 pieces of honeycomb coal per day. Now, fewer than 10,000 pieces are sold each day.
The surviving factory must rely on a network of food stalls and small businesses for its customers. Most of the workers come from the rural area in northern provinces such as Vinh Phuc, Ha Nam, Hai Phong and Quang Ninh.
The predominately migrant workers earn between VND80,000-150,000 (US$4-$7.5) a day, often working up to12 hours each shift.
The workers are lured to these coal plants, despite the health risks, because the income is stable. The workers don't have to pay rent even though they live in the factories.
"This is definitely hard-work but we can earn money throughout the year," says 37-year-old Pham Thi Thuy, who has been at one of the plants for five years. She uses only a simple face mask for protection.
"Farming only lasts for months in a year. You need to make a lot of outlays to raise cattle and you could lose it all to extreme weather or epidemics."
Two years ago, she brought her entire family from Vinh Phuc Province to the plant.
The couple spends half the day working in the factory and the other half pushing the cart stack with honeycomb coal to customers in Ha Noi. The larger factory produces around 10,000 pieces of honeycomb coal a day; others produce between 5,000 to 7,000 pieces.
In the morning, a truck carries five tonnes of peat and five tons of coal dust to the factory. Peat and coal dust is then mixed by machine and moulded into pieces. A storage room holds up to two tonnes of honeycomb coal that is dried for 24 hours.
Workers know that breathing coal dust can lead to serious lung and skin conditions, and plan to switch to other trades after they have saved enough money. But Cong is an exception. The man refuses to give his full name or the name of his hometown but says that he has been working in his job for 20 years.
His face has been darkened by extensive exposure to the black carbon and the skin on his hands is peeling. He has a heavy, throaty cough. He does not know how he has survived for so long.
"I just know that it has helped me earn an income for my family all these years," Cong said.
Twenty-three-year-old Nguyen Van Thanh has been at the plant for three years. Thanh said a lack of educational and employment opportunities in his home province of Vinh Phuc was part of the reason why he came here.
"I don't really know what I will do in the future so I am just living from one day to the next," he said.
At around 8pm, a typical working day at the plant comes to an end. Four honeycomb coal stoves light up to cook dinner, while workers use a brush to wipe their carbon-covered hands. The smell of coal has filled their living space.
One of the workers says they have gotten used to living with the smell of burning coal.
Phung Van Thai, a worker from Ha Nam, said he doesn't want to stay in the plant forever and dreams of opening a fruit stall with his wife.
At 9pm, dinner is served under the dimming light of the plant. After dinner, the workers go to sleep listening to the radio.
"The best time of the day is at the end of the day, we are clean for a while," Thanh says.