Deputy Minister of Transport Pham Quy Tieu and Deputy Head of the Civil Aviation Administration Dinh Viet Thang visited Phu Quoc Island, Kien Giang Province to establish a command post to search for the missing Malaysian aircraft on March 10.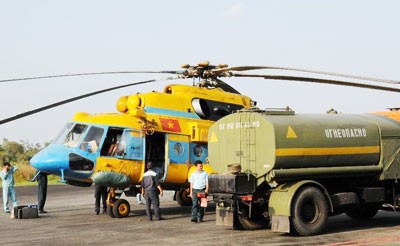 A Vietnamese helicopter leaves to search for the missing Malaysian aircraft (Photo: SGGP)
Mr. Tieu will work with leaders of Kien Giang Province to prepare necessary conditions for the establishment of the command post.
Vietnam is ready for a rescue operation in case the plane falls in Vietnamese waters, said Mr. Tieu.
Malaysia currently has five vessels in Vietnamese waters to search for the missing jet. Six countries are cooperating in the rescue mission.
Our two vessels searched all night but have yet to find anything related to the incident, said commander of the Naval Zone 5 Doan Van So on March 10. Their fleet of six vessels contains enough supply for a long-term search.
Seaplane HDC6 continued its second trip out to sea to seek for the Malaysian plane.
Two flight crews in Ca Mau Airport continued searching operations and are receiving further orders from the High Command of Air Defense and Air Force, said Tran Van Quang, head of Regiment 917 under Division 370.