A delegation comprised of the members from the Party Central Committee, National Assembly, Government, Viet Nam Fatherland Front and the State President Office yesterday morning paid tribute to President Ho Chi Minh at his mausoleum in the capital city.
The visit marked the 82nd anniversary of the founding of the Communist Party of Viet Nam, February 3rd 1930.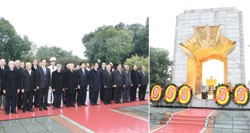 Vietnamese leaders place floral wreaths at the monument in memory of War Martyrs in Ha Noi yesterday. — VNA/VNS Photo
Among the participants were Party General Secretary Nguyen Phu Trong, State President Truong Tan Sang, Prime Minister Nguyen Tan Dung and Fatherland Front President Huynh Dam.
Later on the delegation paid a floral tribute at the monument in memory of War Martyrs in the city.
Also marking the occasion were activities held nation-wide to commemorate the Party's foundation.
The National Assembly Chairman Nguyen Sinh Hung yesterday attended the Party anniversary ceremony in northern Thai Nguyen Province.
At the meeting, the NA Chairman presented the Ho Chi Minh Order to the provincial officials and people for their excellent performance and contributions to the national revolution.
He said this occasion was an opportunity to review the glorious path of heroism of the nation and the province, strengthening the determination of both party members and the people to implement development plans in a sustainable way.
Hung noted that the provincial party members should promote the good health of the Party by continuing to follow the moral example of President Ho Chi Minh and consolidate the great national unity, describing it as a decisive factor in achieving targeted goals.
On this occasion, the NA Chairman and high-level delegation officials offered incense as tribute to President Ho Chi Minh in the Ho Chi Minh Temple in Thai Nguyen Province. They also burnt incense at a monument of 60 war martyrs in Thai Nguyen Province's Phuong Gia Sang Ward.
In the central province of Nghe An – the native province of President Ho – representatives from the Provincial Party Committee, the People's Council and the Fatherland Front laid wreaths and burnt incense at the Kim Lien cultural and historical relic in Kim Lien Commune, Nam Dan District. The site was built to show the local people's gratitude to President Ho Chi Minh.
In the Cuu Long (Mekong) Delta provinces of Hau Giang and Ben Tre, the central south province of Quang Ngai, the northern mountainous province of Bac Kan and others, many activities – including meetings, spring press exhibitions and cultural shows – were held to mark the occasion