More than ten companies have come forward to create new jobs for 13,610 laborers evacuated from Libya.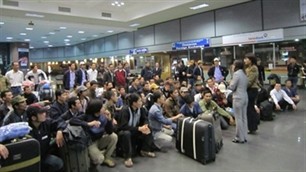 File photo shows a company offer jobs to workers from Libya.
Le Quang Trung, the deputy head of the Job Department stated this in a meeting jointly held by the Ministry of Labor, Invalids and Social Affairs and the Overseas Labor Management Department in Hanoi on March 25.
The departments met with companies that need to hire more workers. However, laborers and the relevant departments need to discuss various details such as work policies, wages and benefits which will help workers re-establish their lives and those of their families.
Companies are offering a monthly salary of VND3 million. Some companies like the Khang Thong Group and Viet Phat Trading and Production Joint Stock Company are offering a monthly salary of up to VND20 million to senior engineer positions. Others like Vinaconex 6 Joint Stock Company and Viglacera Corporation are offering monthly salaries from VND3-8 million.
All recruitment information is available on website: http://www.dolab.gov.vn