Nguyen Anh Tuan, Deputy Director of the Price Control Agency has warned dairy companies of violating the law when they raised the price of milk products.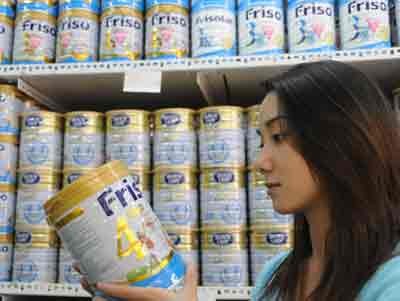 Friesland Campina Vietnam announces to raise its dairy products. For instance, Friso 3 leaps from VND337, 000 to VND350, 000 for a 900 gram can
Tuan added that consumers can now complain to the responsible agencies about any hike in prices and the market management company would impose stiff penalties. Although the Price Control Agency has not approved the proposal to increase dairy products, some companies have pushed up the prices nevertheless.
Some dairy companies have announced a sudden 10 per cent price rise, blaming it on the hike in foreign exchange rates. Agents in Hanoi said Friso products of Friesland Campina Vietnam, Ensure and Similac products of Abbott which are imported by the 3A Pharmaceutical Co. Ltd have already issued an announcement of their price hike. Milk would now cost between VND20, 000 to VND50, 000. Similac 2 leaped from VND183, 000 to VND204, 000 for a 400 gram can, and Friso 3 from VND337, 000 to VND350, 000 for a 900 gram can.