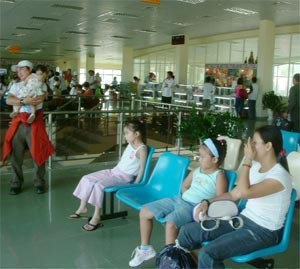 Waiting for a plane out of Cam Ranh Airport (Photo: Hoang Uy)
Mechanical problems delayed two Vietnam Airlines' planes on November 24 – one from Ha Noi to Ho Chi Minh City and the other from Ho Chi Minh City to Singapore. In cases like this the airline must compensate the passengers.
To find out exactly what compensation is due in what circumstances, we spoke with Mr. Duong Tri Thanh, director of Vietnam Airlines' southern office.
Duong Tri Thanh: For most of the world's airlines, the rate of flights departing and arriving on schedule ranges from 80 to 85 percent. With Vietnam Airlines the rate is between 82 and 87 percent though the rate of delayed or cancelled flights sometimes reaches 20-25 percent. There are two main reasons: ones beyond our control like bad weather and others that are not like technical glitches and operational problems.
Does Vietnam Airlines compensate passengers in the event of a flight delay or cancellation?
Yes. With delays, there are three levels of compensation. If the delay is between one and two hours, the passengers must be offered a light meal at no extra charge. If it's from two to six hours, they must be offered a full meal, again for free. And if the delay is longer, the passengers must be offered hotel accommodation and transport between the airport and the hotel.
There is no compensation if the delay is under one hour.
If a flight is cancelled, the passengers are entitled to the following compensation: US$150 for flights to Europe (except Moscow) or to Japan; up to US$100 for flights to Australia, Russia (Moscow) or Korea; and US$50 for flights to Taiwan, Hong Kong, China (Kaoshiung or Kunming), Thailand (Bangkok) or Singapore.
For domestic services, the compensation is up to US$18.75 for flights from Ho Chi Minh City to Ha Noi or Hai Phong; US$12.50 for flights from Ho Chi Minh City or Ha Noi to Da Nang or Hue or from Ha Noi to Nha Trang; and US$6.25 otherwise.
How does Vietnam Airlines plan to ensure its flights depart on schedule?
We will do our best to fix any problems as quickly as possible. But if a flight is delayed or cancelled, we are more than happy to compensate the passengers.