"Quang Ninh should create conditions favourable for long-term investment projects," Prime Minister Nguyen Tan Dung made the statement at an investment promotion conference titled "Quang Ninh – Convergence and Pervasion" held in the northeastern province on Feb 24.
He expressed joy that despite difficulties these last five years, from 2005-2010, Quang Ninh has scored big achievements, notably the GDP growth rate averaged 12.7 per cent per year.
He also urged Quang Ninh to develop policies to modernise and industrialise the province, while protecting its natural resources and ensuring national security, by the year 2015.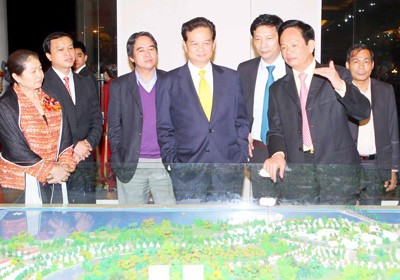 Prime Minister Nguyen Tan Dung ( 4th, L) is introduced the project of tourism area in Tuan Chau, Quang Ninh (Photo: SGGP)
The two-day event which attracted nearly 1,000 participants, included former State President Tran Duc Luong and representatives of ministries, embassies, international organisations, agencies, investors and localities, aimed to introduce Quang Ninh's socio-economic development strategy until 2020 and plans till 2030.
PM Dung hailed the province's growth as it had obtained great achievements and witnessed new development.
He added that they would continue to work with the provincial authorities to seek investment opportunities in the province.
"Apart from the development rate of 12.7 per cent per year, the economic structure of Quang Ninh has shifted in a positive manner as its industry and services accounted for more than 94 per cent while agriculture accounted for 5.6 per cent," he added.
He also noted that the province last year managed to achieve a growth rate of 12 per cent, doubling the average rate of the nation. GDP per capita reached US$2,200 with the budget reaching more than VND29 trillion ($1.38 billion), the highest level ever.
The PM emphasised that Quang Ninh should create conditions favourable for all domestic and foreign businesses to invest in, and develop a comprehensive and modern infrastructure, giving priority to projects with strategic significance such as the Noi Bai-Ha Long, Ha Long-Mong Cai traffic routes; the road linking Ha Long with Ha Noi-Hai Phong Highway; Hai Ha-Mong Cai, Thanh Hoa-Quang Ninh coastal road; Van Don Airport; Yen Vien-Pha Lai–Ha Long railway; Cai Lan and Hai Ha Ports.
"The province should attach importance to the training and development of qualified human resources with management skills, encouraging the application of science and technology, innovating and transferring environment-friendly technologies," he said.
PM Dung also asked the province to actively and positively integrate into the international arena to effectively exploit its potential and advantages, and develop appropriate solutions and plans to effectively promote the Viet Nam–China: two corridors, one economy co-operation programme.
Quang Ninh also should focus on the development of border trade, building Mong Cai City into a modern international border city, playing an important role in developing the coastal economy connecting the province with China's Guangxi Province, thus boosting trade, investment and tourism among Vietnam, China and ASEAN countries for mutual benefit and development, he said.
The PM added that the Government had provided preferential policies and mechanisms as well as several important projects to help the province fully tap into its potential.
He said that he highly valued the province's determination of removing economic growth model from hot to green and sustainable development, associated with re-organising economic restructuring and ensuring social security.
Speaking at the conference, Nguyen Van Doc, chairman of the provincial People's Committee said the province's advantages relied on how it differentiated itself from other places.
"Quang Ninh has a number of special factors including location, topography, nature, economy and human resources as well as being a modern part of the world. It is also a centre for production and development in coal mining, industry, thermal power, building materials, shipbuilding, seaport services and border trading," Doc said.
He added the province was one of two localities approved by the Government to build economic zones in Van Don, Quang Ninh and Phu Quoc in southern Kien Giang Province including a high-quality marine-island tourism centre, airport, seaport and local-regional financial services hub.
"Quang Ninh, with its strategic location is a force of momentum in the North, will not only bring prosperity to itself, but also other localities in the region, neighboring provinces and the country. With strong support from the Government, Quang Ninh Province could become a key economic zone in the northern region," he said, adding that the main drives would be tourism, logistics, food processing, commerce and coal mining.

"These factors could help Quang Ninh become an industrialised province by 2015, five years before the country's target as set by the provincial authorities," He said.
Quang Ninh has a sea coast of 250 km with 2,077 islands including world famous Ha Long Bay, and authorities in Quang Ninh have put forth 20 projects worth several billion dollars, which have sought investment at the conference in five sectors - tourism and entertainment services, seaports and logistics systems, commerce, infrastructure, training and human resources.
Also at the event, the province signed a memorandum of understanding with both local businesses and foreign partners.
On Feb 24, some of the projects have been signed between Quang Ninh authorities and investors, including one concerned with infrastructure – the $3 billion Hai Ha Seaport Industrial Park.
Quang Ninh signed with Japan Mickensey Group the consulting contract on the general socio-economic planning project.
In addition, the province has also sighed with its Korean counterpart an agreement concerning tariff-free zones and a new industrial park in the Van Don Economic Zone with total investment of $1.5 billion and Van Don International Airport worth $1.2 billion.
Authorities in Quang Ninh also granted investment certificates for the $47 million Wheat Flour Plant, construction of a $182 million Hoanh Bo Industrial Park and the Lam Ngoc tourism area worth $42 million.