An official from the Department of Agriculture and Rural Development from Ca Mau province, on the southern most tip of Vietnam, stated yesterday that over 40,000 people might face evacuation as their land area is under constant threat of landslides.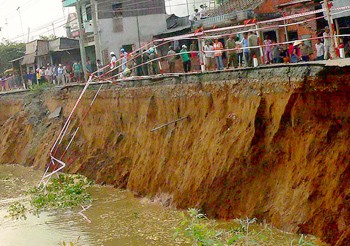 A severe landslide reduced the 11m wide Highway 91 to only 1m in An Giang Province last year (Photo: SGGP)
The official, To Quoc Nam, said that people from 9,500 households in the coastal districts of Tran Van Thoi, Phu Tan and U Minh should be relocated to protect their lives and properties.
Most of the above households are very poor, with many living along the embankment of the river or its vicinity, putting them at greater risk especially during the rainy season.
He added that Ca Mau would step up the building of resettlement areas in U Minh, Phu Tan and Dam Doi districts, where the people could be relocated.
In related news, the People's Committee of Hau Giang Province has asked departments to evacuate 14 households in Lai Hieu ward and Nga Bay town, where a severe landslide sliced off a tarmac road about 42m long and 5-7m wide.
The Hau Giang Province now has 55 landslide prone spots with 15 spots being marked as highly dangerous.
Meanwhile, the Vietnam Environment Administration said that Dong Thap Province had 100 places marked as high danger zones for landslides.
In addition, 56 spots along the riverbanks in An Giang Province are highly vulnerable, with eight marked as very risky for habitation.