The Prime Minister has regulated the way that ground-breaking and inauguration ceremonies must be done for construction projects to keep them modest and avoid waste.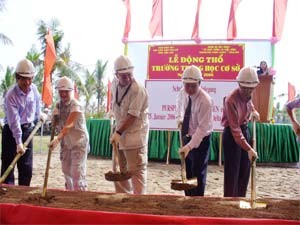 The Prime Minister regulates that ground-breaking and inauguration ceremonies done for construction projects must respect national customs, be simple and thrifty. (Photo: T.K.)
According to a decision signed on Tuesday, these events must respect national customs, suit the economic and social conditions of the project's location, and be economical in terms of money and time, and must not be used as an excuse to flaunt wealth.
 
Only people closely involved with a construction project can be invited to attend a ground-breaking or opening ceremony, and they must be picked up at a common gathering place, not from their homes or offices.
 
On the all-important issue of cost, the expenditure for a ceremony must not exceed VND50 million or 0.04 percent of the project's budget, whichever is the smaller.
 
The cost of an event can be included in the project management budget if it is held for the purpose of promoting the company's trading name. Also, the investors are not permitted to ask the contractors to cover any of the cost.
 
Only one ground-breaking and one inauguration ceremony can be held for a construction project, and only with permission from the relevant authorities.
 
Finally, the organizers must stick to the contents of the pre-arranged program for the event, and gifts and flowers are prohibited.