A Viet Nam-Singapore joint venture yesterday kicked off construction of Viet Nam's first bonded petroleum warehouse in Van Phong Bay, Ninh Hoa district, Khanh Hoa province.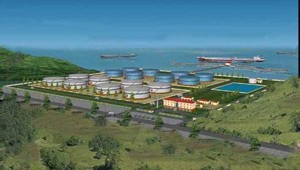 An artist's impression of the Van Phong bonded petroleum warehouse
The Van Phong Bonded Petrol Warehouse JV Co., Ltd. comprises Vietnam National  Petroleum Corporation (Petrolimex), its subsidiary Petrolimex Insurance Joint Stock Company (Pjico) and Singapore's PB Tankers Ltd.
 
The venture is to invest US$150 million in a depot covering 56 hectares of land and 42 hectares of water in the Van Phong Economic Zone.
 
The project has two phases, the first costing US$100 million over 18 months and providing a warehouse with a capacity of 500,000 cubic meters of petrol, 29 tanks for gasoline, diesel and fuel oil, and four large wharfs to receive ships of up to 150,000 DWT, an unloading capacity of 6,000 cubic meters of goods per hour and loading capacity of 4,200 cubic meters per hour.
 
Other facilities such as inland roads, office buildings, water supply systems and power station will also be built in phase one.
 
In the second phase, the joint venture is to invest US$50 million more to double storage capacity to one million cubic meters.
 
The depot will be the Viet Nam's largest petrol warehouse equipped with the latest environmentally friendly technology and the state-of-the-art equipment.
 
The majority of equipment, technology and tankers will be provided by PB Tankers.
Van Phong Warehouse Director Nguyen Van Que said a Singaporean company experienced in building storage facilities will manage the project.
"With the latest equipment, the depot will be as good as any in the region," Mr. Que said.

As to shares in the joint venture, Petrolimex holds a 55 percent stake, PB Tankers 30 and Pjico 15.