Hung Nghiep Formosa Ha Tinh Steel Company (FHS), a subsidiary of the Taiwanese Formosa Plastics Group, has mobilized all human and material resources working around the clock to build many items of Formosa's steel mill and Son Duong deepwater seaport complex project on schedule this year.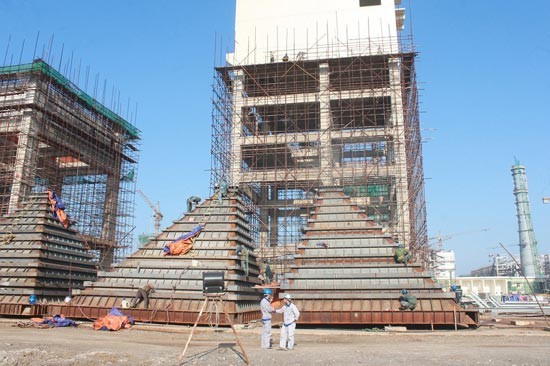 Workers on the construction site of Formosa steel complex in the central province of Ha Tinh (Photo: SGGP)
The project is located in Vung Ang Economic Zone, Ky Anh District, the north central province of Ha Tinh.
Tens of thousands of local and foreign workers and engineers of 121 main contractors from many countries and territories including South Korea, China, Japan, Taiwan (China) and Belgium and 241 subcontractors have worked three shifts a day to put several important items of the project into operation this year.
Le Duc Thang from Ky Anh District said that many workers had been arranged to stay on the construction site during the Lunar New Year Festival and received sufficient wages, overtime allowances and bonus.
Chinese worker FanZung, who will be on duty in Tet, said that the nearer the holidays were, the more he missed his house and relatives. He and other coworkers planned to ask the company to go out and attend locally festive activities in Ky Anh District in leisure time.
FHS has ordered thousands of Chung cake, the traditional Tet cake of Vietnam, and other delicious dishes for expatriate workers to celebrate the holidays.
This year, the number of Chinese workers and engineers working on Formosa site total the highest ever. Therefore leaders of Formosa Plastics, DIS and Shanghai Baoye Group will arrive in Vung Ang Economic Zone to encourage the workers' spirit and enjoy the Lunar New Year festival with them.
Ho Anh Tuan, head of Ha Tinh province Economic Zone Management Board, said that over 5,985 foreign workers had been working on the construction site of Formosa's project as of January 16. Of these, 4,500 are Chinese, 1,200 are Taiwanese and the remaining ones come from other 20 countries. Vietnamese workers total 30,460.
The board has worked with border military and police forces to intensify patrol, ensure public order and security, and absolutely protect life and properties of construction units.
Relevant sides had been proposed to sufficiently supply electricity and water for the economic zone during the Lunar New Year, it said.
According to FHS, items of Formosa projects have completed 86.6 percent of construction volume. The 650MW Formosa Thermal Power Plant comprising five turbines has nearly been built. The first turbine is expected to generate electricity in March. Each of the rest turbines will begin functioning after every three months.
Besides, an accommodation site for 7,500 workers, a 600 square meter dinning room and a guest house able to serve 1,440 people have been opened.
The first blast furnace of Formosa steel mill is scheduled to start a trial run in August before officially operating in the following month. The second blast furnace will be built in June.
Sea embankment construction and installation of hundreds of caissons under the sea at Son Duong deep seaport are expected to finish by November to form a steady foundation for the seaport.
W7 Quay which can receive 10,000 DWT vessels has run while quays W1 and W2 able to accommodate 50,000 ships will come into operation by the first quarter this year.
The first phase of Formosa project has a total investment capital of nearly US$10 billion. Construction site covers 3,319 hectares including 2,026 hectares on the mainland and 1,293 hectares at sea.
The project comprises three main items including a steel complex, Son Duong Formosa deep seaport and Formosa thermal power plant.