Deputy PM Nguyen Sinh Hung yesterday continued to check the preparation of the central provinces of Quang Ngai and Quang Nam for the prevention of the weakening typhoon Utor.
Many important projects at the Dung Quat Economic Zone in Quang Ngai Province, including the Dung Quat Oil Filter Company Project and wave barrier construction, have been protected as requested.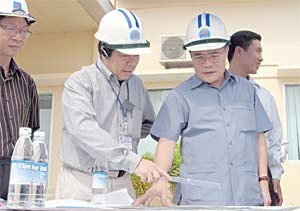 Deputy PM Nguyen Sinh Hung (R) checked the preparation for typhoon prevention at the Dung Quat Economic Zone.(Photo: HM)
Besides, the deputy PM has instructed to stop some constructions of key projects; anchor the equipments while and mobilize labor forces to strengthen factories and workshops.
According to major-general Tran Hoa, as of 6 am yesterday, the provincial border guards had warned as many as 31,412 ships with 164.572 fishermen to go back land. So far, 24.097 of these ships, with 119,431 workers, had landed successfully.
"The remains had been announced of the typhoon's location and movement so that they can be on their way back land," Mr. Hoa said.
Another five boats with 50 fishermen in Phu Yen Province was assisted to land safely at an Indonesian port while other four ships with 51 workers, which were still operating offshore nearby the Hoang Sa (Paracel) archipelago, could get in touch with the border guards and their families in Quang Ngai province.
Meanwhile, the Quang Tri provincial border guards had assisted a foreign ship with eight Indonesian fishermen in finding a safe shelter at the Cua Viet port.
On the same day, border guards at the central coastal province of Binh Dinh also helped a Malaysian barge to fish out and protect about 2,000 cubic meters of wood.
The forecasted movement of typhoon Utor from 4PM today.
Typhoon weakening, to disperse in the next 72 hours
According to the National Hydro-meteorology Forecasting Centre, the center of typhoon Utor at 4pm today was situated at the latitude of 17.4 degrees North and the longitude of 111.5 degrees East, about 360 km east-east north of the Thua Thien Hue - Quang Ngai coast. The storm would directly affect the central offshore of Viet Nam with strong winds of up to over 10 category.
The centre also forecasted that Typhoon Utor would move in the west and northwest direction at a slow speed of 5 km per hour in the next 24 and 48 hours.
Many international forecasting centers predicted that the storm would fumble about the longitude of 111 to 112 degrees East, move slowly and continue to weaken and disperse in the Eastern Sea on December 17. However, there will remain some post-typhoon heavy rains and strong winds in the region.
Related links:
Typhoon Utor Changes Direction, Puts Central Provinces on Alert
Measures Geared up to Brace For Typhoon Utor