The Consultative Group for Viet Nam (CG) held its annual meeting in Ha Noi today with its main focus on Viet Nam's economic development and solutions for its existing problems.
CG consists of representatives from the Vietnamese Government, bilateral and multilateral donors and NGOs.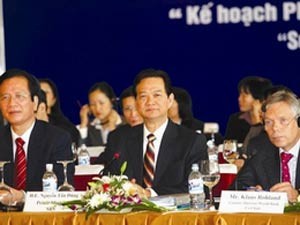 Prime Minister Nguyen Tan Dung and foreign investors at last year's meeting
According to many investors, the country must overcome its five biggest obstacles to attracting more foreign investment capital: underdeveloped infrastructure and auxiliary industries, lack of competent management officials, ineffective execution of domestic policies and inconsistent and insufficient legal documents.

Underdeveloped infrastructure is said to be one of the major drawbacks for foreign investors. Electricity shortages and overloaded traffic routes and seaports are among the country's biggest concerns.

Real estate management is also a hot issue as many investors are reported to have faced obstacles when opening their businesses in-country due to the inconsistent policies on real estate. Some investors have had to wait two years to be granted construction permits.

Before the meeting began, Minister of Planning and Investment Vo Hong Phuc said Government will continue working to accelerate administrative reform and create a favorable investment environment for foreign enterprises.

The CG2007's participants will also promote closer cooperation for a more effective use of official development assistance (ODA), Minister Phuc added.

Donors have committed to giving Viet Nam some US$4.44 billion for its economic development and poverty relief programs.