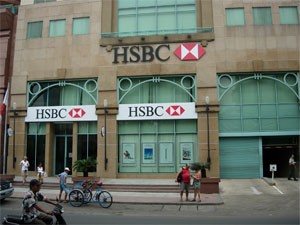 View of HSBC in downtown HCM city. Conceivably, foreign investment could be viewed as very effective in speeding up Viet Nam's economic growth. (Photo: Hoang Uy)
The Consultative Group for Viet Nam held its annual meeting in Ha Noi yesterday.
At the meeting, Minister of Planning and Investment Vo Hong Phuc pointed out that Viet Nam's economy was growing at 8.2 percent this year, higher than the average growth target for the 2006-2010 period, and that the poverty rate had declined from 22 to 19 percent since a year ago.
Viet Nam achieved much this year, he said, and mentioned gaining membership of the World Trade Organization, successfully hosting the fourteenth APEC summit, increasing direct exports to foreign markets, and effectively using Official Development Assistance funds.
From 2006 to 2010, the government was looking forward to an economic growth rate of 7.5 to 8 percent, per capita income of US$1,050 to US$1,100, and ending Viet Nam's status as an underdeveloped country Mr. Phuc said.
What would help Viet Nam meet these three targets, he said, was domestic and foreign investment capital of US$140 billion, including US$11 billion in ODA.
Minister Phuc said that Viet Nam would use its ODA funds first and foremost to build national infrastructure like highways connecting the north to the south and a main road running across the central provinces, and to improve road communications in the Mekong Delta to boost growth and reduce poverty in the region.
Klaus Rohland, country director of the World Bank, praised Viet Nam for its efforts to improve the investment environment and reduce red tape, tempting many more foreign investors to these shores as a result.  
Conceivably, foreign investment could be viewed as very effective in speeding up Viet Nam's economic growth, he said.
He added that Viet Nam ought to quickly complete its legal framework and policies on managing ODA funds, and that it should manage and use its ODA with more transparency and coordination.
Mr. Rohland confirmed that the international community would stand by Viet Nam in its socioeconomic development.
The Prime Minister was also there and said Viet Nam had notched up some impressive performances thanks to the international community's support.
He pledged to expand and deepen the cooperation between Viet Nam and the rest of the world, and to use ODA funding wisely.
"Viet Nam's government is poised to partner up with the world to deal with any issues that arise," he said.