Inhabitants in northern parts of Viet Nam are to experience a cold spell during the upcoming Christmas holiday as a cold air stream is forecast to spread through the region tomorrow, reports the Central Hydro-Meteorology Forecast Center.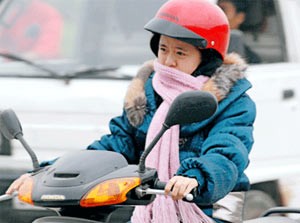 Inhabitants in the northern provinces wear coat as the weather turns cooler
Once the colder air moves in, the region is expected to see light rains with average temperatures ranging 13-22 degrees (Centigrade), 8-18 degrees in mountainous areas.

Central and southern provinces recently experienced similar weather conditions when a freak cold air stream moved in, leaving average temperatures as low as 17-28 degrees in early mornings and late nights.

Temperatures measured in the Central Highlands have dropped 2-3 degrees and currently sit at 17-28 degrees.

In southern provinces including Ho Chi Minh City, where the cold air stream is not likely to spread, temperatures have been ranging 23-33 degrees.

The northern cold spell is forecast to linger in-country for three or four days.