A joyful and vivacious atmosphere pervaded everywhere this lunar New Year.
Ho Chi Minh City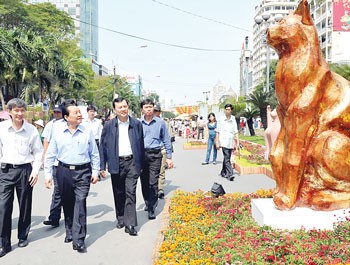 Ho Chi Minh City's leaders visit Nguyen Hue Flower Street.
The main streets in the centre of the city mainly Le Loi and Nguyen Hue Street and areas surrounding Opera House and Ben Thanh Market are usually always crowded with people during Tet.

Local and foreign visitors enjoyed the festive activities on Nguyen Hue Flower Street, the street book festival, the Banh Tet (cylindrical glutinous rice cake) festival, music performances, dragon and kylin dances and funny New Year movies in cinemas or on TV.



Hanoi and neighboring provinces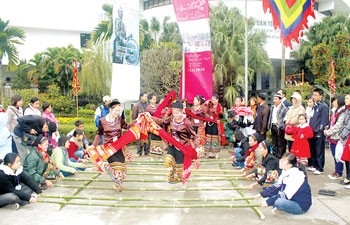 A folk game is organized at the Vietnam Museum of Ethnology.
Hanoians usually go to pagodas on the first days of the lunar New Year to pray for good health and success in business for their whole family.

A festive atmosphere pervaded everywhere, especially in doctoral steles in Van Mieu-Quoc Tu Giam (Temple of Literature) which was honored with the title 'World Documentary Heritage' by UNESCO.

Northern mountainous provinces including Son La, Lai Chau, Lao Cai, Yen Bai and Lang Son have had a warm and sunny Tet season.

UNESCO World Heritage Site, Ha Long Bay was crowded with visitors from the first day of the lunar New Year.

Vietnam Museum of Ethnology remained open on the four days of the lunar New Year with a series of traditional and cultural activities and the Firecracker procession in Dong Ky village, Tu Son district and Bac Ninh province was celebrated on the 4th day of the 1st lunar month as in each year.
Central regions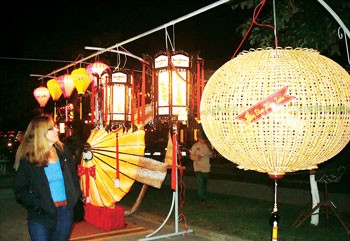 Colorful lanterns in Hoi An town.
The ancient town of Hoi An attracted tourists for the annual Lantern Festival featuring artistic displays on the streets and lantern arrangement competitions and exhibitions of the traditional handicraft skill of making lanterns.

A ceremony celebrating the 222nd anniversary of the Ngoc Hoi-Dong Da victory of Qing invaders was held at the Quang Trung Museum in Binh Dinh Province on February 6.

Thua Thien-Hue Province received more than 30,000 local and international travelers during the first three days of the lunar New Year, while hotels in Da Lat, Nha Trang and Phan Thiet ran out of rooms during Tet.
Mekong Delta region

Farmers of Hau Giang, Tien Giang and An Giang celebrated a good watermelon crop. Many growers reaped a big profit in yellow watermelons shaped like gold taels and squares (worth VND1 million for a pair), and wine gourds shaped like grapefruits (VND300, 000 per pair).