The International Court of public opinion on Agent Orange in Paris Saturday continued hearing from Vietnamese and foreign scientists on the effects of Agent Orange on human health.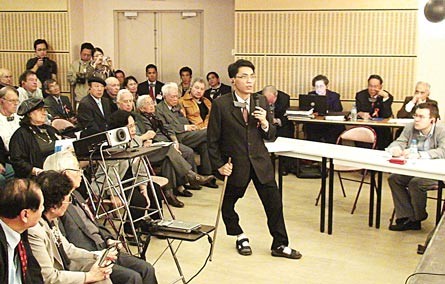 Pham The Minh, an AO Vietnamese victims, tells his story at the court (Photo: VNA)
Prof. Vo Quy, Drs.Tran Xuan Thu and Nguyen Thi Ngoc Phuong, chemist Pierre Vermeulin, and Dr.Jean Meynard testified.
Dr.Phuong, who has studied women's reproductive health for dozens of years, said the US chemical companies that produced Agent Orange had known about the effects of the dioxin but had concealed the information.
"The Agent orange victims in Vietnam who have faced the most difficulties are the poorest. We would like to ask the US government and chemical companies to take responsibility for compensating Agent Orange victims, taking care of their health, education, and vocational training, and cleaning up the environment", Dr.Phuong said.
Praising the doctor's presentation, Japanese judge Shoji Umeida said: "I am very impressed by your testimony. I have visited Vietnam and but did not even dare take photos of Agent Orange victims."
Dr.Meynard said the most terrible fallout of Agent Orange is that it continues to affect generation after generation.
Speaking to Tuoi Tre newspaper, chairman of the court, Jitendra Sharma, said under basic international law, those who pollute the environment are responsible for paying compensation.
"I think after the court of public opinion, we need to fight for an international court to try the US chemical companies and for an international court to achieve justice for victims of chemical weapons," he added.
The court listened to witnesses for two days and they provided evidence through pictures and videos.
Roland Weyl, a famous French lawyer and vice president of the International Association of Democratic Lawyers, said he was very pleased with the testimonies.
"These are convincing and authentic evidence," he said.
He plans to visit Vietnam next month to study the lives of Agent Orange victims.
"They will become my 'clients' in the fight to protect human rights," he added.