The nation's consumer price index (CPI) rose by 2.17 per cent in March, a rise of 13.89 per cent in comparison with the same period last year, the General Statistics Office (GSO) has announced.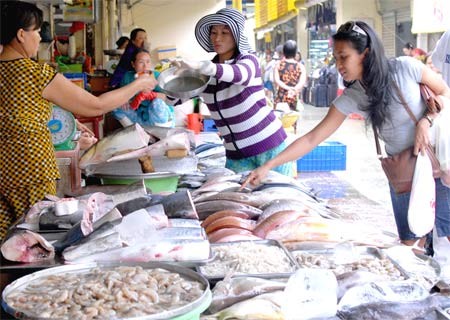 Shoppers at Ho Chi Minh City's Ben Thanh market (Photo: SGGP)
According to the GSO, this figure was the highest increase in the last 34 months. However, CPI this month was still lower than the 2.2 per cent forecast by the Ministry of Planning and Investment.
All 11 commodities groups saw an increase in prices. Transport prices experienced the most dramatic surge this month, up 6.69 per cent, followed by housing and construction materials at 3.67 per cent. The cost of eating out and restaurant services rose the third highest at 3.06 per cent.
Gold and US dollar prices rose by 5 per cent and 3.06 per cent over the previous months, respectively.
The CPI in the first three months of the year rose by 12.79 per cent over the same period last year