The Communist Party of Vietnam (CPV) Online Newspaper officially launched its French language version on December 26, 2008.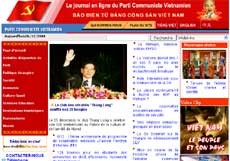 The Communist Party of Vietnam Online Newspaper
The French language version will provide information in many fields such as: news and events; activities of the Party and State; foreign affairs; economics; social affairs; science and education; Francophone community, etc.
Addressing at the launching ceremony, Mr. Nguyen Khanh, former Deputy Prime Minister, stressed that this French version  provided information for not only the French but also people who can speak French all over the word.
He hoped people who can speak French all over the world would be able to find useful information by the French language version of the CPV Online Newspaper.
CPV Online Newspaper is an agency of the Party Central Committee Commission of Propaganda and Training, raising the voices of the Party, State and people on the Internet, and being an electronic information database of the CPV Central Committee (CPVCC).
It can provide information in four languages: Vietnamese, English, Chinese and French.