Motorcyclists are hurrying to buy a helmet for the new transport regulation requiring them to wear one on all roads in Ho Chi Minh City from next Saturday. But it's difficult for motorcyclists to choose one as so many brands are offered in a wide range of quality as their prices rise by over 10 percent leading up to the day they're required.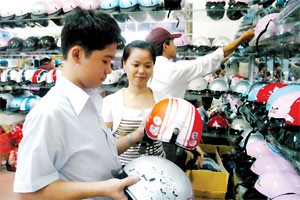 It's difficult for motorcyclists to choose a helmet as so many helmet brands are offered in a wide range of quality and price
While eye-catching helmets proliferate in small shops and streetside displays, with obscure brands like Mashi Maro, TVP Moto, Star Hoda, Shoot Helmet Paris, Takita and Napoli, quality brands, like Protec, Andes, Honda and Amoro, are relatively rare.

Many unbranded helmets are also on display are, as are counterfeits of quality brands.

It's hard to distinguish between high and low quality helmets. Usually no specifications or warranty are available and buyers are left to rely on dubious verbal claims and guarantees.

Quality certifications are only available for the priciest brands. All imported helmets have quality certificates. Protec even offers a six-month warranty.

Branded local helmets are now going for VND80,000-150,000 (US$5-9), imports for VND200,000-400,000 (US$12.5-25) and generic local ones for VND40,000-80,000 (US$2.5-5).