Czech President Vaclav Klaus said his four-day visit to Viet Nam with many leading Czech business people was focused on economic opportunities between the two countries.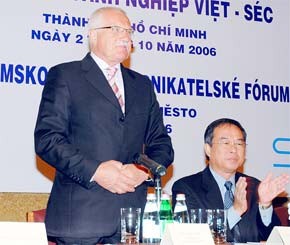 President Vaclav Klaus addresses Monday's forum (Photo: SGGP)
Mr. Klaus was speaking to an audience representing almost 100 Vietnamese and 29 Czech companies at the Viet Nam-Czech Business Forum in Ho Chi Minh City on Monday.
At the conference, the two sides swapped information and discussed trade and investment.
Ho Chi Minh City vice chairman Nguyen Thanh Tai said he expected Czech companies to discover investment opportunities in transport, machine manufacturing, power development, technology transfer and human resources development.
The Czech President announced an urgent donation of US$100,000 to benefit the victims of Typhoon Xangsane, which hit the central region early on Sunday.
Mr. Klaus said the two countries were in their second stage of trade ties and focusing their efforts on improving relations.
He added that the Czech Republic rejected the European Union's decision to impose punitive tariffs on Vietnam-made shoes with leather uppers.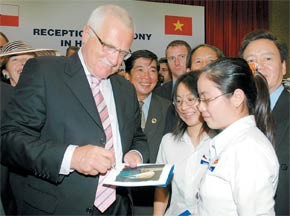 President Vaclav Klaus gives an autograph at the University of Economics (Photo: SGGP)
On the same day he was received by Ho Chi Minh City chairman Le Hoang Quan.

While in Ho Chi Minh City, Mr. Klaus met more than 700 students of the University of Economics, which is cooperating with the Prague University of Economics in training, research and lecturer exchange, and presented two books to the university, both written by him.

Bilateral trade revenue between Viet Nam and the Czech Republic grew 10% annually on average in the 2001-2005 period. It exceeded US$100 million last year and, in this year's first half, was valued at 40.7 million euros, up 48%.
Related article
Prague Stock Exchange Supports Ho Chi Minh City Bourse