Central Da Nang city marked the 40th anniversary of its liberation (March 29, 1975) with a ceremony held in Tien Son Sports Palace on March 28.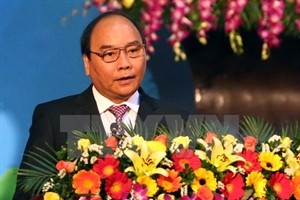 Deputy Prime Minister Nguyen Xuan Phuc made a speech at the event (Photo: VNA)
In his speech, Chairman of the municipal People's Committee Tran Tho reminded local people of Da Nang liberation day and its 40-year journey of development thereafter.
March 29, 1975 will be embedded in history as the most glorious chapter of the city, constituting the power and bravery of its people as well as Vietnam's patriotism and revolutionary heroism in the US war, Tho hailed.
The city has been oriented towards a comprehensive and sustainable growth to become a socio-economic centre of the central region, he noted.
Lauding the city's achievements, Deputy Prime Minister Nguyen Xuan Phuc, however, asked Da Nang to exert more effort to boost its economic development by promoting the use of advanced technology and improving productivity.
The Deputy PM suggested the locality to keep up its goal as the country's biggest centre for the fishing industry with an upgraded infrastructure for aquaculture and seafood processing.
He also asked for more attentions to be given to urban planning and civilized community formation.
A firework display will be launched late on the day at four locations to celebrate the occasion.