HA NOI (VNS)— The central Da Nang City made a jump from 12th position in the Provincial Competitiveness Index (PCI) in 2012 to top the country's PCI 2013 report.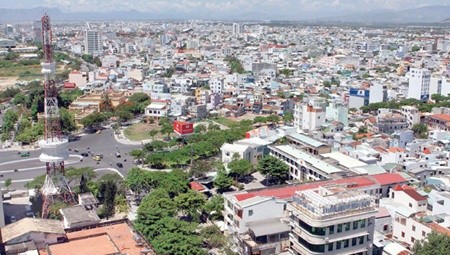 Da Nang City in central Viet Nam has imrpoved its business enviroment significantly to top the Provincial Competitiveness Index. VNA/VNS Photo Tran Le Lam
In the PCI ranking announced on March 19 in Ha Noi, Da Nang City scored 66,45 points, followed by Thua Thien-Hue with 65,56, Kien Giang with 63,55 and Quang Ninh with 63,51 points.
Van Huu Chien, chairman of the city People's Committee, said its leaders in collaboration with various departments had made a great effort to improve its position.
Chien noted that the city had organised several conferences and meetings with enterprises to discuss ways to improve its PCI rating.
It also studied 392 domestic businesses and 117 foreign-invested firms in order to zero in on ways to improve its administrative management.
In addition, he said, the scrutiny helped the city gain a better understanding of the difficulties and barriers that businesses face. Such an understanding would help improve the investment environment.
"The city cut a number of administrative procedures while improving public services to facilitate businesses, especially in granting business licences, land use rights and construction," he stated, adding that the city had chosen this year as "the year of business" and made a commitment to removing the obstacles that businesses face.
Last year's ranking was met with surprise as the country's economic centres saw a rise in their positions. HCM City went up three places to make it to the top ten in the PCI report, while Ha Noi jumped 18 positions to reach the 33rd rank. However, the capital was still ranked low in spite of the drastic measures it took to improve its PCI in 2013.
Two provinces in the central coastal region, including Thua Thien-Hue and Quang Ngai, have been ranked as 'very good' with scores of 65,56 and 62,20, respectively.
Three provinces in the Cuu Long Delta River region – Kien Giang, Dong Thap and Ben Tre – which were ranked 'very good' attested to the region's continued good management.
The north-eastern Quang Ninh Province was listed in the top four for the first time with 63,51 points.
Northern mountainous localities were still in the lowest PCI group. Lao Cai Province, which topped last year's PCI rating went down to the 17th position. Tuyen Quang Province was ranked last in the list.
US Ambassador to Viet Nam David Shear noted that the PCI had great value as it stimulated practical public-private dialogue to boost reforms and generate meaningful changes in business registration procedures and business license exemption.
For the first time, the PCI 2013 report analysed core PCI for the past nine years and thus helped identify key challenges and trends in the index reforms, the ambassador added.
VCCI President Vu Tien Loc said creating opportunities for businesses to showcase their ideas regarding the business environment in localities and addressing businesses' difficulties rapidly and practically would improve the localities' competitiveness.
The PCI 2013, jointly organised by the US Agency for International Development (USAID), is the ninth PCI report on the quality of economic governance across 63 provinces and provides objective indicators of the quality of such governance in areas that are crucial for investment and growth. It was developed on the basis of feedback received from 8,093 domestic non-state businesses and 1,609 foreign-invested businesses operating in the country.
The PCI has important sub-indices, including entry and time costs, land access, transparency and informal charges. It also deals with policy bias, proactivity, business services and labour and provides policy-makers and provincial leaders with useful information and recommendations for action. This contributes to improving the country's regulatory and institutional quality and leads to greater competitiveness in the world economic system.