Almost 3,000 liters of A92 petrol that spilled into the sea after two storage tanks were broken by an embankment collapse in the central city of Da Nang have been mopped up and taken to a new storage facility.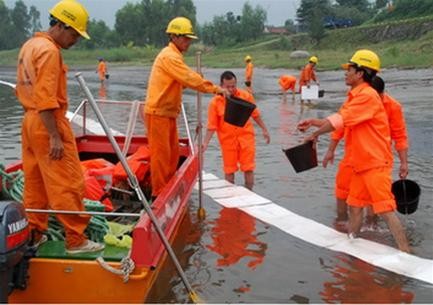 Workers try to collect spilt fuel due to an embankment collapse in the central city of Da Nang (Photo:TTO)
Almost half of the over 2,000 liters of ZA1 oil that also spilled is being transported to a depot in Da Nang Airport, director of Vietnam Air Petrol Company (Vinapco), Nguyen Van Luan, said further.
Vinapco, which owns the collapsed tanks, plans to remove the petrol stored in three other tanks to safety before beginning repairs to the dyke.
The fuel, which had spilled not far from shore, had been manually gathered by workers from the Da Nang city Environmental Company.
The director of Da Nang's Department of Natural Resources and Environment, Nguyen Dieu, said on October 19 that his department had advised Petrolimex Da Nang to use absorbent paper for the mop-up work.

People have been banned from collecting fish and other creatures killed due to the oil slick and floating in the sea.
The head of the Department of Environmental Protection, Truong Van Tan, criticized Vinapco's Aviation Fuel Company for its lack of equipment, even absorbent oil paper.
Vinapco had, however, assured the Ministry of Natural Resources and Environment it had all the required equipment for the cleanup.
Related article:
Landslide leads to oil spill off Da Nang coast